Starbucks to introduce the Vanilla Spice Latte next month.
Melody, December 13, 2012
69
2 min

read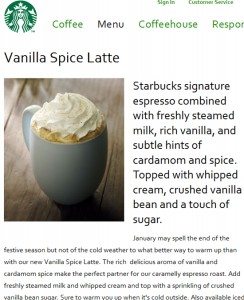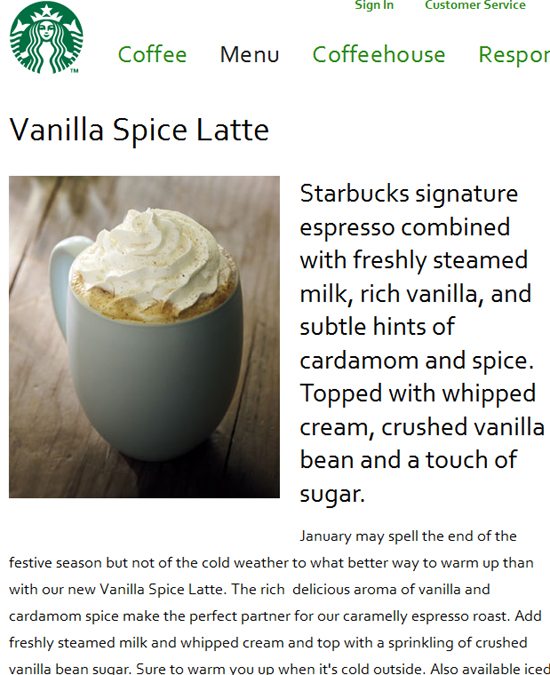 Coming soon in January 2013, Starbucks will be introducing a seasonal Vanilla Spice Latte (or Vanilla Spice Frappuccino) into the beverage lineup, in their U.S. and Canada stores.  This beverage previously was a seasonal drink in the UK  and so there is a lot of information already out there about the Vanilla Spice Latte.  Straight from the Starbucks UK website, here's a description of the new drink:
Starbucks signature espresso combined with freshly steamed milk, rich vanilla, and subtle hints of cardamom and spice. Topped with whipped cream, crushed vanilla bean and a touch of sugar.
January may spell the end of the festive season but not of the cold weather to what better way to warm up than with our new Vanilla Spice Latte. The rich  delicious aroma of vanilla and cardamom spice make the perfect partner for our caramelly espresso roast. Add freshly steamed milk and whipped cream and top with a sprinkling of crushed vanilla bean sugar. Sure to warm you up when it's cold outside. Also available iced or blended as a Frappuccino®.
DID YOU KNOW
Cardamom pods are well known for their health and medicinal benefits, said to include vital vitamins such as Vitamin C and minerals like potassium and calcium.
It looks like a great beverage.  I like that it appears to be a nice variation on a basic drink, rather than introducing an overly sweet sugary drink.  I hope that there are a few readers in international markets reading this who can report on how they like it!
It's my understanding that this new drink launches the first week of January:  I've heard January 3rd will be the launch date.  This is really only about two weeks away, and I am looking forward to trying it.  I do order a basic vanilla latte now and then, and so this may be something I'd like.
What do you think?
Related posts