At the beginning of this month, I made a promise that for every paperback of Tales of the Siren: A StarbucksMelody sold through Amazon.com, I'd donate one dollar to the CUP Fund. That promise still holds true. Today's the last day where if you buy Tales of the Siren paperback, I'll donate.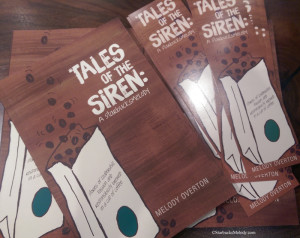 Since the book's release in May, there's no doubt hundreds and hundreds of people have read the book. I know that my Facebook PM box and emails have come to me with lots of positive feedback. It's a must-read for the true Starbucks fan. One partner wrote me that it was an "extra shot of Starbucks kool aid" right when she needed it.
Unfortunately, when you purchase Tales of the Siren from Amazon.com, the nice matching bookmark (shown in photo) does not come with it – that's something I had made up for promotional use, especially for the Tales of the Siren street team.  If nothing else, I know it sounds like a little thing, but I have readers who have been enjoying this blog for years and years, and I would hope you'd consider purchasing a copy of the book as a thank you for years of this StarbucksMelody adventure.
Thank you again.
Melody
(PS: I've had people asking me how to subscribe to this blog. It's true, I'm missing the big subscribe button that used to be in the right rail. Long and annoying story. If you want to subscribe, leave a comment – even if it's something short like 'I hope to read this book' – and then before you submit, click the tiny icon box at the very bottom that asks if you want all future updates. Sorry that there's no easier way at this time. You can also click "like" on the Facebook page, though unless you turn "notifications" on for the Facebook page, you'll miss 90% of all the status updates, because that's just the way Facebook works.)
Related posts
Socialize

Subscribe
Join the StarbucksMelody.com mailing list to receive a weekly email with new posts.