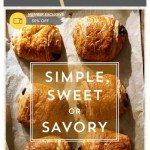 My Starbucks Rewards uses one-to-one marketing. This is important to know. What is one-to-one marketing? It means that different My Starbucks Rewards members receive differing offers. There are NOT universal offers.
I cringe when I hear a partner (or a customer) say something like, "MyStarbucksRewards members are getting bonus stars on Oprah Chai right now." If you start a sentence with, "MSR members get …" and you are talking about some specific promotion, outside of the standard rewards, you are passing on bad information. I have met some partners (and customers) who don't seem to realize that there are no longer universal MSR promotions. You pretty much have to start every sentence with "Some MyStarbucksRewards members get …" or "Select MSR members get…"
There are no more standard offers where ALL MSR members get something. If that specific Starbucks customer, who is one of the 9 million MSR members, received an email for that offer, then he or she gets that offer. The MSR standing next to that person, who didn't get such an email (or see it loaded on his or her mobile phone Starbucks app) did not get the offer.
It can make for some odd experiences. It's possible that two friends, who are both MSR members, will receive completely different star dashes, promotions, and bonus star offerings. This also means that it's likely that your barista will have no idea if you participating in a star dash, supposed to receive bonus stars for Oprah Chai, or have special discounts available to you, or any number of customized one-to-one offers.
This came up in conversation because another blogger sent me an email that he had heard that all MyStarbucksRewards members were getting 50% off croissants, for National Croissant Day, which is today. He wrote, "I saw a sign today at my local Starbucks — MSR members get 50% off croissants on National Croissant Day." I thought that was interesting because I'd seen a few chalk signs that said things like that, as I quickly skimmed Instagram. Not a good thing to make a sign for! I emailed media relations and got this reply:
"Some members of MyStarbucksRewards received this offer of 50% of a croissant in celebration of National Croissant Day. It would be considered "one-to-one," as you mention." (Thank you Maggie Jantzen of Starbucks media /public relations for the quick email reply)

You need the words "Some member of MyStarbucksRewards…" in any sentence talking about special MSR offers, just as media relations wrote to me.
Starbucks does this to create customized offers, tailored to each MyStarbucksRewards member.
Happy National Croissant Day today!!
For review, I'll mention the current My Starbucks Rewards standard offers, that all receive, depending on their level. This is the standard MSR program, absent one-to-one (customized) special offers:
One Star in 12 months: Welcome level (one use of a registered card to pay for purchases in stores) – A free birthday reward (all rewards are good for food or drink) – Must be registered at least 30 days before your birthday to receive this. A birthday coupon for 15% off at StarbucksStore.com – Customized offers, which is exactly what this article is about.
Five Stars in 12 months: Green level – All of welcome level perks plus free refills. Yes, if you have NOT left the store, it possible to switch from a latte to coffee as your refill. There is never a refill perk in the drive thru. Once you level the store, all refill perks come to an end.
30 Stars in a year: Gold level – All of the above plus "Lucky Dozen" rewards every 12 stars after getting to the gold level. Lucky Dozen rewards can be used for food and beverage at Starbucks (excludes Evenings food, and beer and wine).
In March 2014, Starbucks added standard bonus stars per each at-home coffee item purchased inside company-operated Starbucks. All My Starbucks Rewards members earn one extra bonus star per at-home coffee item, such as K-cups, whole bean coffee, Reserve coffees, Verismo pods, and Via Ready Brew.
My Starbucks Rewards is subject to change. Check the official website for new information. The above is a quick summary of MyStarbucksRewards. The Starbucks website will have more detail.
Related posts