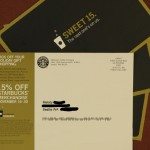 What fun to get a coupon in the mail for 15% off merchandise at Starbucks! (Valid beginning November 16, 2010) Now that is the kind of perk I like.  Thank you My Starbucks Rewards.  For the record, my coupon will quickly be used on Christmas Blend whole bean coffee, the Huxley Mouse, and Christmas Blend Via Ready Brew.
For those of you reading this blog post and feeling confused, My Starbucks Rewards is the loyalty program that Starbucks has through their card.  A customer simply needs to get a Starbucks card (meaning any gift card), load money on it, register the card, and use it to pay for purchases while at any participating Starbucks.  You can use ANY card to be a part of My Starbucks Rewards.  Many people have a confused belief that once you have reached the Gold card level, you're required to switch and use that card.  This is simply not true.  There is no extra perk associated with that specific card.
Once a customer is at the "Gold" level of rewards, he or she starts receiving free drink coupons and other coupons in the mail.  From my perspective, it's nice to have a reward that offers a little variety, and that's why I love getting the coupons like the 15% off coupon.  Of course who doesn't like a free drink, but variety is the spice of life.  And a reward that is always a free drink coupon sort of loses its element of surprise and delight after a while.  It stops being a surprise when you know what is coming in the mail.
On November 4, 2010, Starbucks announced fourth quarter earning results for fiscal 2010.  I streamed the webcast of this at investor.starbucks.com.  Interestingly, Howard Schultz provided listeners with some interesting trivia about the success of My Starbucks Rewards and the Starbucks card in general.  (Thank you Howard Schultz.  What perfect timing).  Did you know that there are about 1,250,000 Gold My Starbucks Rewards level members, and the program is only about ten months old?  (My Starbucks Rewards officially went live December 26, 2009).  More than two million people have joined My Starbucks Rewards since its inception.  During fiscal 2010, Starbucks customers loaded 1.5 billion dollars onto the @StarbucksCard, 20% greater than fiscal 2009!  I thought those were all interesting facts!
So you too can be a part of My Starbucks Rewards.  It's easy to do.  And you will soon be getting coupons just like the ones featured here!  What would you use your 15% off coupon for?
(Want to win a $5.00 Starbucks gift Card? Be one of the first 10 people to leave a comment in this thread or any other StarbucksMelody.com thread AND to tweet this blog post with "@SbuxMel" somewhere in the tweet.  Must have a United States address, be over the age of eighteen, and must strictly be one of the first 10 to comment and tweet this.  Contest ends at 11 a.m. (PST) or when all gift cards have been given away, whichever is earlier.).
Thank you to Molly at Seattle Custom Framing for the help with the pics for this post.
This is an open thread. Feel free to talk about anything Starbucks related. Test products? Christmas merchandise? Via Ready Brew? MyStarbucksIdea? The new partner only community Starbucks site? Coffee? You name it…
Related posts