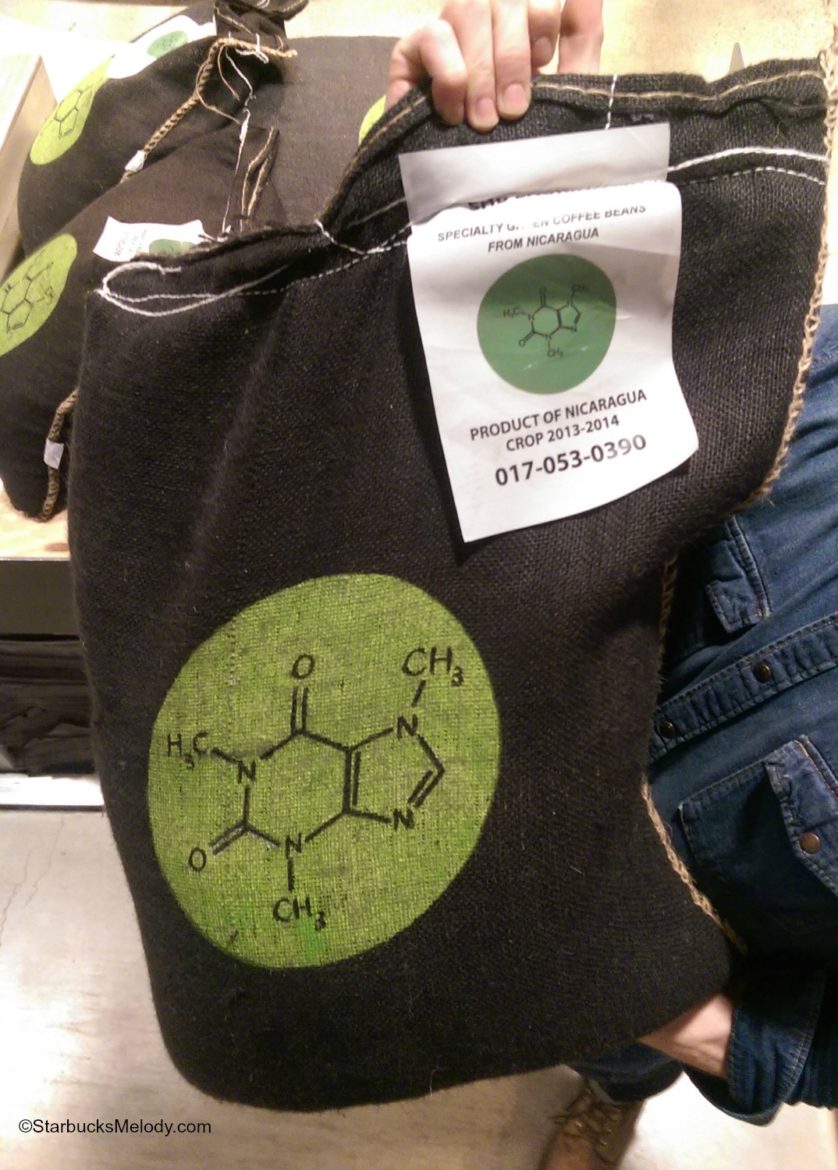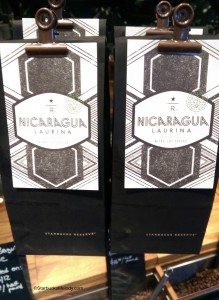 Tuesday March 17, 2015, you'll find a micro-lot coffee available at only twenty Starbucks stores. It's the Nicaragua Laurina. Starbucks obtained only 17 bags from the farmer, representing a total of about 750 pounds of coffee, after roasting. (That was the entire harvest of this coffee). It's considered a "micro lot" which is a smaller yield of coffee than a "small lot" coffee, usually found at Starbucks Reserve locations.
The Nicaragua Laurina is a beautiful medium body coffee with lots almond-y sweetness and some sweet lemon notes. I've had it via a pour over and via the Clover brewer, and found that it was a little more lemony with the pour over and that the Clover seemed to bring out some of the almond notes.
Laurina is an actual coffee varietal. I've mentioned other very special and rare varietals in previous articles, such as the Geisha varietal coffee. The Nicaragua Laurina comes from a coffee tree with a smaller shrub and leaves, which produces a bean that is small, slender, and looks a bit like grains of rice.  In one of the photos below, you can see the Laurina positioned next to a Peru coffee and the difference in size and shape becomes apparent.
This coffee varietal has one remarkable characteristic: it is naturally low in caffeine. It is simply a characteristic of this varietal that the beans produce about half the caffeine content of a normal coffee bean.
The Starbucks agronomist who worked with the coffee farmer (Clemente Poncon), helped develop a special black burlap sack for the green coffee beans with the caffeine chemistry symbol on it!
After its roasting on March 10, 2015, at the Starbucks Reserve Roastery and Tasting Room, Starbucks sent this out to a tiny number of stores. The coffee was Fed-Ex'd to the few stores outside of Seattle, and delivered by car to Seattle stores. It will be gone in one week. After the degassing period, and the one week period for freshness, it will be considered too old to sell (it's not in Flavorlock packaging).
This coffee retails for $16 per half-pound.
Tonight I went to a special coffee tasting for this coffee at the East Olive Way Starbucks. Just as a reminder, this store has regular coffee events every other Monday night. Please join me for a free coffee seminar (open to the public) every other Monday at 6:00 PM at East Olive Way. Coffee Master Megan from East Olive Way and Tyler from the Starbucks Reserve Roastery and Tasting Room walked us through a coffee tasting of this coffee, made via the Clover and paired with the Starbucks almond croissant. Great pairing! Definitely makes the coffee pop with almond notes!
In no particular order, look for this coffee at these Starbucks stores:
Hope you can get to one of the above stores. They're all beautiful stores – A number of those stores are great to visit because of how pretty they are. If you ever plan a trip to Seattle, I have a Starbucks vacation guide here.
Enjoy the rest of the photos of the Nicaragua Laurina coffee. Click onto the photos to make them larger.
Related posts