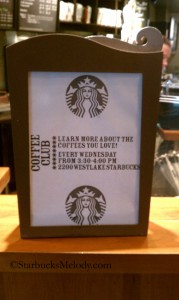 I just went to a great coffee tasting this afternoon, so I can't resist and I feel like I have to write a short blog post about it.  Tomorrow, I'm leaving for a brief trip to California, so there won't be any new updates until early next week, when I'm home in Seattle again.
We tasted Indivisible Blend, the most recently introduced Starbucks coffee, with three different food items.  We tried it with the following:
1) The Brown Sugar Walnut Petite Tart
2) the Starbucks brownie
3) the Starbucks flatbread offering.  (As you may recall, the flatbread is only available at a limited number of Starbucks stores.)
About one week ago, I dropped by the Starbucks at 2200 Westlake Avenue, as it is close to a grocery store where I sometimes do my grocery shopping.  The register partner (Kristen) invited me to attend the store's weekly coffee tasting event, which is held every Wednesday at 3:30 p.m.  Since that is in the middle of the work day, I didn't think I would ever be able to join this coffee tasting, however as luck would have it, I had an unusually light work day today, and I made it to the coffee tasting.  (I was actually late, but called them and let them know I was coming, so they held it for a few minutes for me.)
Kristen prepared Indivisible Blend in a French press for today's event.  By the way, this Starbucks store does not have Reserve coffees, and it is not a Clover store.   I'm totally impressed by the coffee passion.  The store manager, Shannon, told me that she is absolutely committed to her store's coffee roots.
I was thoroughly impressed with how perfectly the Brown Sugar Walnut tart went with the Indivisible Blend.  The sweetness in the petite treat brought out sweeter notes to the coffee.  The coffee had a full, round flavor, and went wonderfully with this item.
Both Shannon and Kristen loved the pairing of the brownie with Indivisible Blend.  I thought that the texture of the brownie brought out a certain smoothness to Indivisible Blend, but I was more of a fan of the Brown Sugar Walnut tart.
The flatbread pairing was a surprise, and tasted great.  Shannon went to Olive Way (one of the few Starbucks that offers this as a menu item) and was able to get a small amount for this tasting.  Indivisible Blend coffee has a bit of a tang to it, and the flat-bread was a nice complement to this coffee in a similar way that one might imagine that cheesy bread pairs with tomato soup.  I was surprised at how successful this savory pairing worked out.
My favorite was still the first pairing, but of course it is all subjective!
That was it!  I love a good coffee tasting, and this was a perfectly done coffee tasting, presented in a knowledgeable fashion.  Kristen walked us through all four standard steps of a tasting, and was knowledgeable as we worked through them.  Those four steps are: 1) smell the coffee 2) slurp 3) locate the coffee in your mouth and 4) describe the flavors.
If you're in the area, drop by for a coffee seminar any Wednesday at 3:30 p.m.
Here is the store's address:
Starbucks (store #10303)
2200 Westlake Avenue
Seattle, WA 98121
(206) 223 2173
Thank you Shannon and Kristen!
By the way, I only had my phone with me, and so I took just a few photos.  Sorry there aren't more.
Here we are just getting started: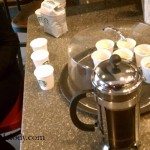 If you're looking for the Brown Sugar Walnut treat, here's what it looks like in the pastry case.  Also, I included a picture of our coffee tasting samples: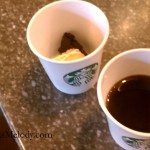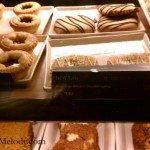 In the past, I've written out my thoughts on tips for a successful coffee tasting, and I still suggest looking at Melody's Top 10 Coffee  Tasting  Tips.
As I meet partners in real life, I frequently hear the comment at how they enjoy reading coffee tastings.  A store manager (whom I don't know all that well) recently shared with me that she has tried some of the pairings described in previous articles.  It's funny but I don't see that many people comment on these articles, yet in real life, partners repeatedly tell me that they enjoy reading coffee tastings!  Please don't be shy in the comments!  Please tell me if you like these articles now and then.
Again, I'll gone from blogging until early next week.  I'll catch up with you all soon!
Related posts