Starbucks Rolling out Powermat Wireless Charging Stations. (@powermat)
Melody, January 15, 2016
11
3 min

read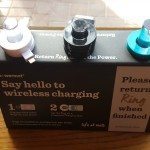 In November 2014, Starbucks announced the national roll out of Powermat wireless charging. You'll find the Powermat website here, and their Twitter profile here.
Obviously, Powermat hasn't made it to all Starbucks stores in the United States yet. An official Starbucks spokesperson (Maggie Jantzen) mentioned to me that currently Starbucks has launched powermat in select cities: "We do have the Powermat spots now live in the San Francisco Bay area, the greater Los Angeles area, Boston and New York." Actually, one of my readers very recently mentioned to me that she saw Powermat charging stations in Chicago Starbucks as well, so perhaps Chicago was very recently added to the list of cities with this wireless charging technology.
My own first chance to try out the Powermat wireless charging technology was over the Christmas holidays in California. I had traveled to Orange County for the holidays and stumbled upon the Powermat system in place in stores in Orange, Irvine, Costa Mesa, and a few more places. (The greater Los Angeles area mention by media relations obviously includes LA county and the adjacent Orange County.)
This was pretty cool!! I felt so high tech charging my cell phone with a wireless charger! At a Starbucks in Irvine (where I was only planning on running in and out until I saw the Powermat charging), I happened to have both my cell phone and Kindle with me. I charged my phone, read my Kindle, and enjoyed a Flat White! (This isn't relevant to the article, but in case you're wondering, I'm currently reading Station Eleven. Before that, I read Snakes in Suits, which should be mandatory reading for anyone in an HR field! Snakes in Suits is about how psychopaths make their way – and succeed – in a corporate work environment!)
I downloaded the app to my phone, plugged in the round charger, and charged away. My phone told me I was charging: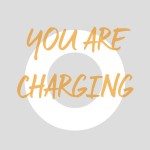 Also your phone will tell your charging progress: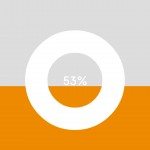 The charge was pretty fast too. I definitely like this technology. I wish it were available here in Seattle! Maybe someone at the SSC will read this and bring it to Seattle? 😉
I have to admit, I wondered if transitioning to Powermat wireless charging would mean covering up outlets in the stores? The FAQ section of the Powermat website says that the Powermat charging system isn't designed for tablets, and I have to assume that means simple laptop users as well. As I was working on writing this article, I saw this news story about a customer bringing a gigantic computer setup in a Starbucks. I can definitely say that as I was sitting there charging my phone, the thought never occurred to me that transitioning to Powermat wireless charging could result in fewer people sitting in Starbucks stores, hanging out on computers and laptops. Statistically, the overwhelming majority of the Starbucks business is "to go." At one time, I think I'd heard that it was something like 70% to 80% of all customers are just running in and out of the stores. I've also heard that the percentage of "to go" orders is on the rise as more and more major remodels of stores add a drive thru, and generally with a lot of new construction of drive thru locations. Here in Seattle, you're hard pressed to walk into a Starbucks and not find a place to sit, but I've heard it's not at all like that in other cities. Covering up electrical outlets could increase that percentage of "to go" customers? The caveat here is only that I'm just thinking out loud, and don't have a strong position on this, but I wonder if one reason to moving to Powermat charging is to discourage laptop users?
Here are a few more pics from Orange County. Have you tried wireless charging?
Related posts