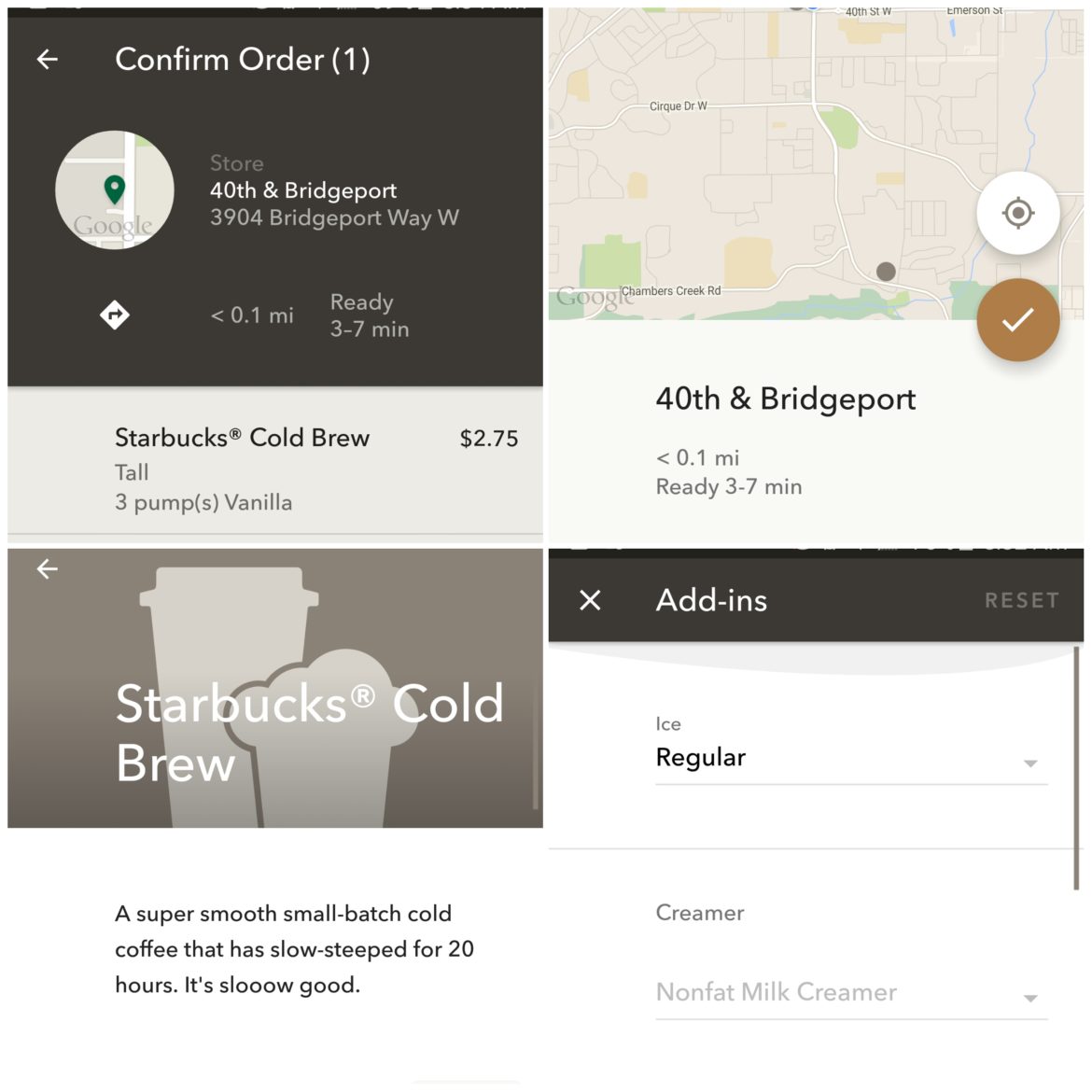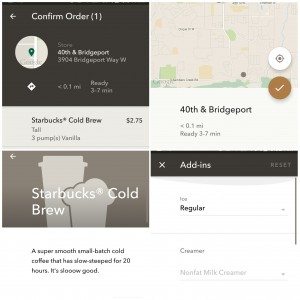 I tried  Starbucks Mobile Order and Pay for the first time today. It's been available in the Pacific Northwest for quite a while for iPhone users. Today (September 22, 2015) is the launch of Mobile Order and Pay for Android phones everywhere. For Android users all over, they get their first chance to both order and pay from their phone, bypassing the line.
I've only used Mobile Order and Pay just this one time. I'd love to hear how your Mobile Order & Pay experiences are going!
I'll start out with what my experience was: To be totally clear, on this blog, sometimes I just share my experiences. I don't work for Starbucks, and so good or bad, I'll share my opinions and thoughts. I can't always be a cheerleader.
This morning, for work reasons, I headed out the door for a 9:00 AM meeting in Tacoma, Washington. (I know many StarbucksMelody readers know that I live and work Seattle.) I planned ample time to get to the meeting on time, and so shortly before 8:30 I stepped into the Starbucks at 40th and Bridgeport. I stood in line and ordered a Clover-brewed cup of Ka'u and a Chonga bagel. I had enough time to sit down and enjoy my bagel and coffee. I was generally aware that Mobile Order and Pay was coming soon, but honestly didn't know that today was the day. I'd been watching everything from Google alerts to Seeking Alpha alerts to figure out when it was going live. Sure enough, I was sitting there eating my bagel, and I realized that the Mobile Order & Pay was live. I downloaded a new version of the app to my phone and gave it a try. I ordered a cold brew. I wasn't really thirsty for another beverage but wanted to try this new way to order. I don't even normally drink my cold brew with vanilla but I wanted to see how modifiers work on the new app.
One thing is that I was mentally primed for Mobile Order and Pay to work like what I'd seen in Seattle stores. I had seen that East Olive Way and Pacific Place had separate areas staged that are labeled "Mobile Order and Pay pick up." I know that I'd heard Mobile Order & Pay orders called out in a number of the stores that I visit. My phone said it would be 3 to 7 minutes, so I sat down, patiently waiting. I thought I'd hear called out something like, "I have cold brew mobile order and pay."
Some time went by and I didn't hear my drink being called out. About ten minutes went by and I started to wonder where my drink was. Mind you, this really was my first and only try at using Mobile Order and Pay. I got up, flagged down a partner and asked about my drink. A partner then handed off a melty-beverage with lots of condensation on the outside of the cup. This wasn't a great experience. The silver lining to this is that the partner (Paul) who gave me my drink (and remade it) was absolutely friendly through out the process.
I then rushed out the door to my 9:00 AM meeting. (I rushed out pretty fast! While I was mildly irritated, I'm sure I came off a little more abrupt than I intended since I was in a hurry.)
I then turned to my Facebook group for conversation about this. I wasn't sure how Mobile Order and Pay should work. The bottom line is that I'm just a customer. Just like anyone else, I hope for a friendly experience and a great drink. This was just a spontaneous try at Mobile Order and Pay, at a store where I'm not a regular. I hadn't known in advance that today was the day it was coming. Once in a blue moon, SSC partners will reach out to me and tell me what's coming soon, as was the case when core Ethiopia coffee was launched. But today was a surprise. One thing for sure, if I ever have a question about something, or if I get something wrong, I feel like I know 10,000 partners who will easily correct me! After talking to partners online, I realized that you're supposed to flag a barista down for your drink. I had a moment of realizing something: this is not for me. Unless I'm at a store where I know the partners, I'm probably not going to do this. My own experience has been that you can get snarled at by interrupting busy partners with questions like, 'My coffee is super hot. Can I get an ice cube?'. And I sure as heck am not going to flag down partners hard a work with something like, 'Is my drink ready yet.' Again just my opinion, I'd like my drink to be called out. Partners are busy!
I know that other people will love Mobile Order & Pay. It wasn't a fun experience for me. I don't want to discourage you from using it.
By the way, the conversation in the Facebook group was excellent. Lots of partners had different thoughts about what should work best with Mobile Order and Pay, and it would seem that some stores do call out drink, though apparently not in Tacoma.
Later on, at 11:00 AM, after my meeting was over, I stopped by the Starbucks at 3rd and Steilacoom. The register partner (Victoria) made a quick comment, noticing that I was wearing a MyStarbucksRewards-pattern scarf. I ordered a flat white, got a bistro box for later for lunch, and headed back to Seattle. Much better experience! Back to ordering at the register!
Hey, we don't have to like the exact same things! Maybe I'll try it out again at one of my regular stores.
Related posts