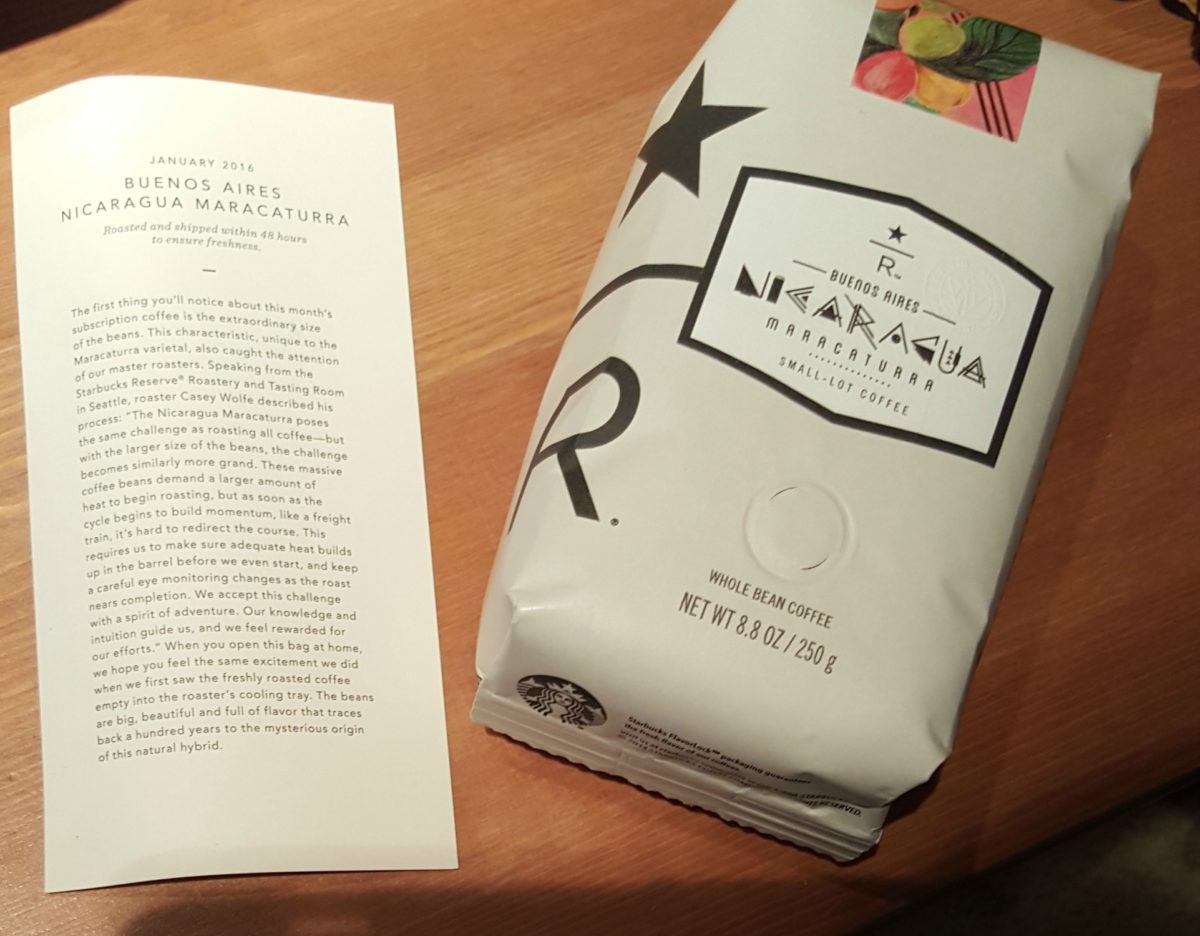 This month's Starbucks Reserve subscription coffee is the Nicaragua Maracaturra. For those who might not know, the subscription serves sends you a freshly-roasted coffee once a month. It's always a small-lot rare coffee, and almost always something you won't find in the United States and Canada Starbucks Reserve stores.
Here's the link to subscribe:
Starbucks Reserve Roastery subscription.
I just recently got my January subscription in the mail and I have to say that I'm excited to try it. It's an unusually large-size  varietal coffee bean, which Starbucks says will have peach and apricot flavors. You can read more about it here. The Reserve Roastery subscription gives you a chance to try very rare coffees. You'll even make your local coffee master jealous! 😉 Past Reserve Roastery subscription coffee have included Tanzania Mt. Meru and Bali Vintage Klasik, both amazing coffees.
If you want more of these coffee articles, please subscribe!
Explore Starbucks Reserve – Coffee is my first love. I started this site just for myself, so I'd have a place to write just some coffee thoughts.  I update it haphazardly. Please subscribe! You definitely will not be flooded with emails! When you click "subscribe" and enter in your email address, you will only get new articles as they are posted on my sites.
StarbucksMelody.com – This is the main site. I appreciate your submissions too – if you have a tip, juicy gossip, or a great idea for an article, please click the "submit a tip" button. That widget doesn't ask for your email address, so unless you provide, I won't be able to contact you back, should you want a return email. Please subscribe! You'll get about three emails per week. I treat StarbucksMelody seriously and I'm always looking for a wide variety of new and interesting articles for you, whether it's about the Roastery, a throwback Thursday, a new coffee, a new store, or any new venture Starbucks is diving into.
Thank you my readers!
Related posts