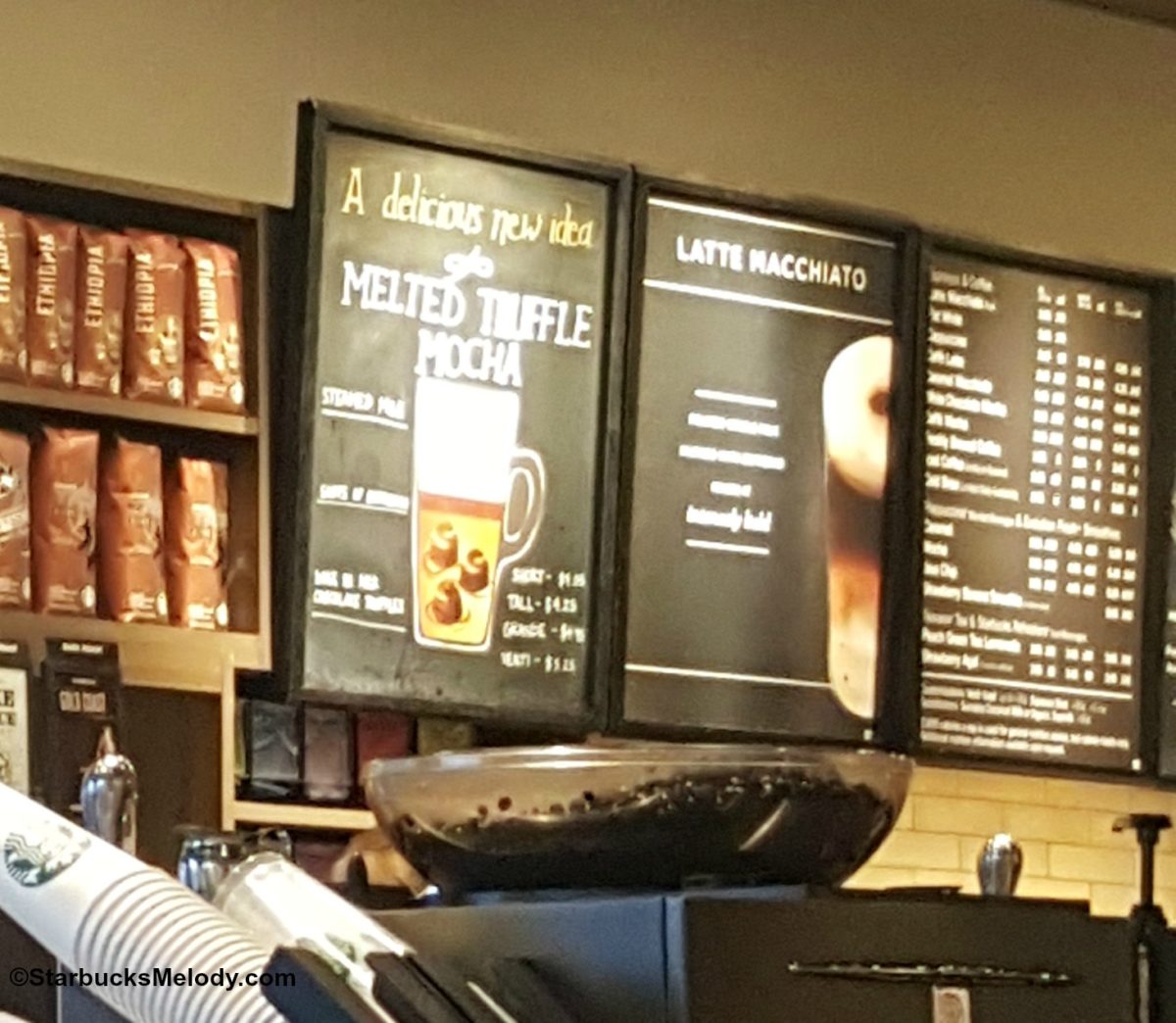 The Starbucks Melted Truffle Mocha is an elevated mocha beverage made by melting real truffles with hot espresso and milk.
I first wrote about the Truffle Mocha in June 2015, as I stumbled upon it as a test item in a Juanita, Washington Starbucks. I just had the Melted Truffle Mocha again, this time in testing in Monroe, Washington. The fact that it's still being tested is interesting for sure!
Today (January 17, 2016), I walked into the Monroe Starbucks and saw this sign: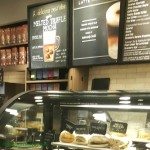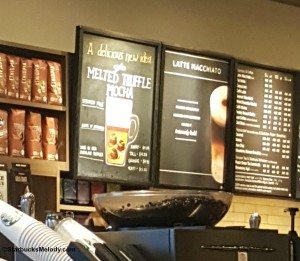 There are two versions of the Melted Truffle Mocha that customers may choose from: Milk Chocolate Melted Truffle Mocha or Dark Chocolate Melted Truffle Mocha.
Like the earlier test version, the basic steps to making this drink are the same: The rich chocolately taste of mocha comes from real chocolate truffles melted by hot milk and espresso, not a mocha sauce. I tried both the Milk Chocolate and Dark Chocolate versions, and asked for a truffle on the side, so I could see what they look like: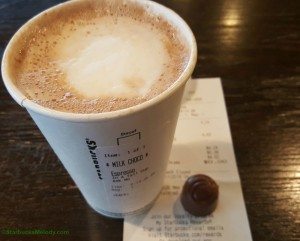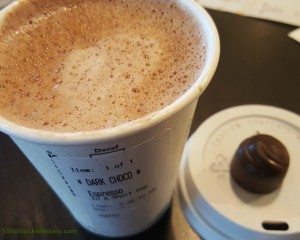 These were delicious! The truffles melted well. The dark chocolate version was especially delicious as it didn't taste like you were just drinking sugary-syrup mocha, rather it tested very chocolate-y.
If I had to take a guess as to why Starbucks is testing an elevated mocha beverage, I'd say that it's consistent with their desire to elevate the espresso beverage experience. Starbucks has just recently (re)introduced the Latte Macchiatto into the beverage lineup as well as gaining a lot of success with the Flat White, including the wonderful Holiday Spice Flat White. I think the timing is right to put the spotlight on the Starbucks handcrafted mocha.
The Melted Truffle Mocha comes in the four standard sizes, and the price is the same whether you're ordering the Dark Chocolate or the Milk Chocolate version:
At least right now (since this is a test beverage, I'd expect prices to vary as Starbucks tests the best price point too) here are the prices:
Short – $4.05
Tall – $4.25
Grande – $4.95
Venti – $5.25
I had posted a photo in a Facebook group, and mentioned that I was trying this new test beverage. One reader asked me: "When will the drink be available to get?" Because this is a test, you might never be able to get this drink. There's a possibility that the Melted Truffle Mocha will never make it to a nationwide launch. Starbucks tests many more beverages than what actually ends up making it to a nationwide launch. In recent years, test beverages have included the Pumpkin Flat White, the Copacabana Beach Frappuccino, the Cherries Jubilee Mocha, the French Vanilla Custard Latte, and many more.
I'm going to re-tell the story of the Pink Lime Frozt at Starbucks. In 2011, Starbucks experimented by testing (in a limited number of cities) the Pink Lime Frozt. In 2012, the Pink Lime Frozt went through a larger round of testing, including locations in California, Dallas, and Atlanta. And then after that, it was given the axe. It's a good story because it follows a pattern of what Starbucks is known to do: test small and then expand to more cities as the company decides if the drink will logistically be possible and have wide-spread appeal. Texas, by the way, gets a lot of tests. Recently the Starbucks Cream Puff was in testing in Texas.
The conclusion is that if Starbucks is really interested in giving the Melted Truffle Mocha a go, the next place we should expect to see it would be some place like Texas, where Starbucks typically does a lot of testing of new products. If you see the Melted Truffle Mocha in a city near you, please snap a pic and send me your photo of this drink!
For me, I'm giving this two thumbs up. I think Starbucks could sell the truffles separately too!
Related posts
Socialize

Subscribe
Join the StarbucksMelody.com mailing list to receive a weekly email with new posts.