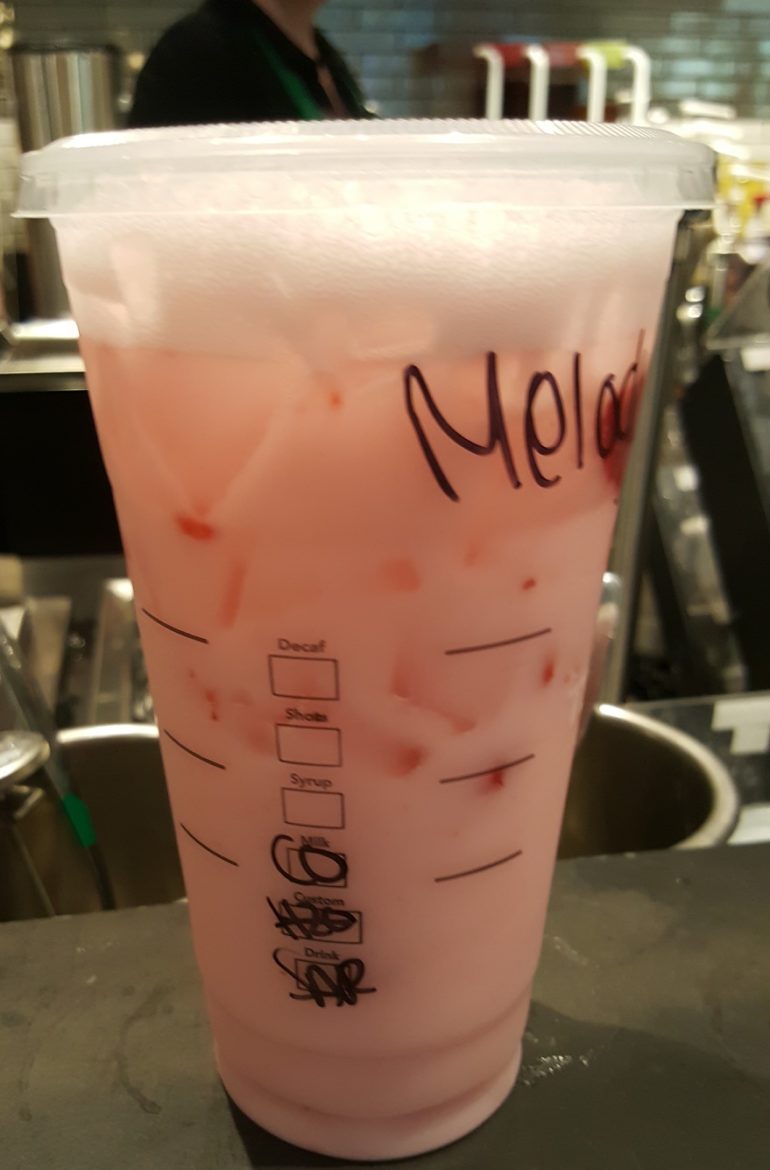 Today, June 23, 2016,  is National Pink Day!
The rage right now is the Starbucks Pink Drink. It looks like this: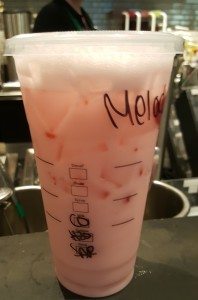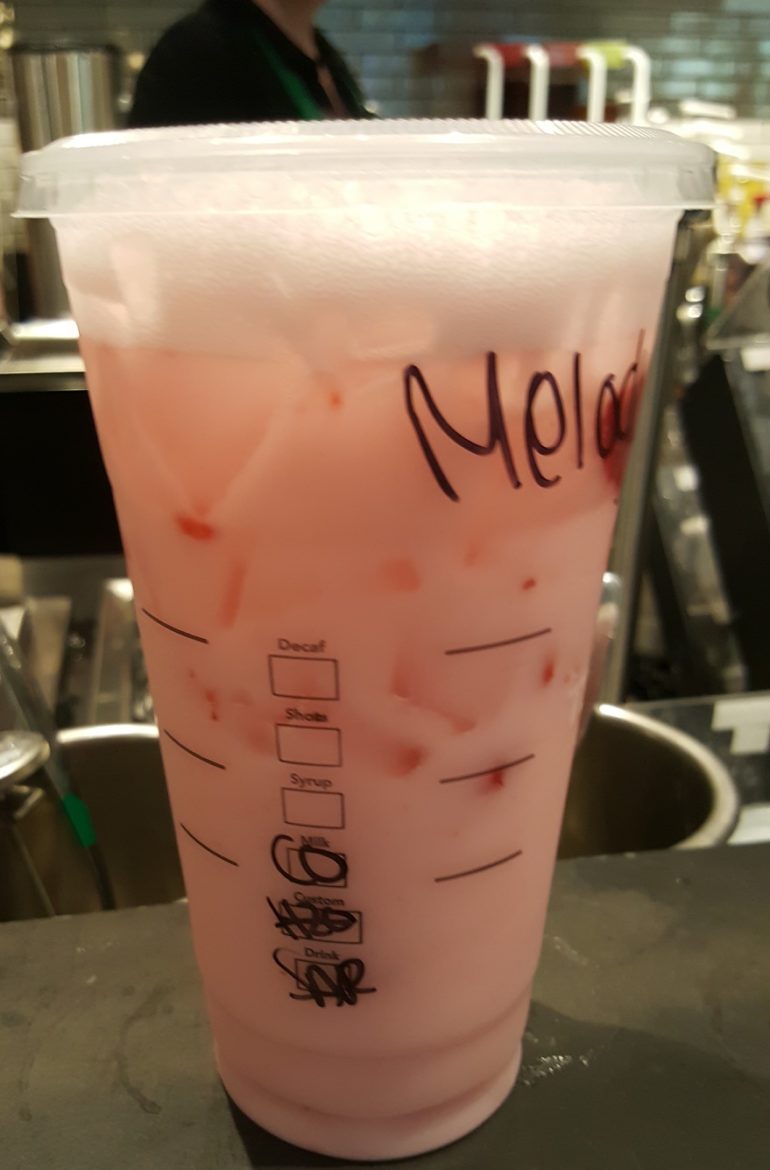 You should know the background story of the Pink Drink. It was born right here on StarbucksMelody.com, almost one year ago! The first mention of it is buried in this article, in August 2015:But
Cool Down: 10 Unique Shaken Drinks
Every day, consistently since August last year, Google has been pouring hundreds to thousands of views to that one article. You might ask why? I don't really know why. I'm clear of one thing: Google loved it. If I were a big company, I'd have some fantastic SEO analysis of how Google works to explain this phenomena. I do know that generally speaking, I'm quite lucky that Google generally likes this site. I know that could be a whole 'nother conversation about how Google picks pages to show in their search results. Suffice it to say, Google was the main source of thousands and thousands page views for that August 2015 article.
Has anyone read the Tipping Point by Malcolm Gladwell? It looked like that one little article, which has more than 100,000 views, reached some threshold where the idea out of it took off like wildfire. It seemed to fit a Tipping Point analysis.
For me, that August article Cool Down: 10 Unique Shaken Drinks was just another article. I didn't name the drink the Pink Drink. But that is the first mention of the Strawberry Acai Refresher, no water, substitute Coconut Milk: Cool Down: 10 Unique Shaken Drinks
And there you have it! The story of how the Starbucks Pink Drink began and took off: Just an idea in one article about one year ago, followed by lots of page views, followed some tipping point. You may have your own theories on the birth of the Pink Drink, but I'm sticking with mine.
Of course Starbucks has a number of drinks which are all various shades of pink. Here they are, taste tested and ranked:
THE BEST: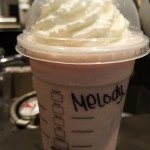 The winner:
Strawberries and creme Frappuccino: This is delicious. It's the classic Strawberries and Creme Frappuccino that has been on the menu for years. There are many popular variations on this drink, adding a number of syrups. I didn't every variation, such as trying the Strawberries and Creme Frappuccino with hazelnut or toffeenut syrup because there are countless ways it could be slightly be modified.
If I tested it with every single syrup variation, I'd be ordering a thousand drinks. However, one ever-popular variation is the Strawberries and Creme Frappuccino with toffee nut syrup added to it.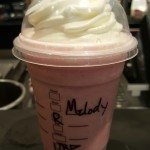 Vanilla Bean Frappuccino with Raspberry syrup, also known as the "Cotton Candy" Frappuccino::
When you order this drink, you may or may not get a pink drink. I have to admit, it's somehow a little more fun as a pink drink. Starbucks has been phasing out their raspberry syrup which had a reddish artificial coloring to it. If your store has some of the newer bottles of raspberry syrup, this drink won't be pink at all.
I don't normally drink the "Cotton Candy" Frappuccino, so trying this, it was new to me. Much to my surprise, it does remind me a bit of cotton candy. It's sugary sweet. And when it's pink, it's reminiscent of cotton candy. This was much better than I expected.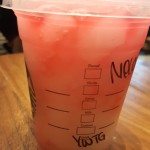 The Youthberry Lemon Lime Granita:
This is a seasonal offering from the new Starbucks "Sunset" menu. I debated whether I should include this drink at all. It's not strictly a pink drink. But in any case, it's close to pink and delicious.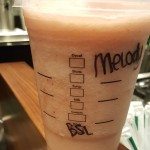 The Blended Strawberry Lemonade
This is a refreshing summer drink. It tastes truly just like a strawberry lemonade in a frozen form. It's almost a little sweet for me, but it's delicious.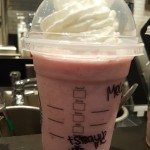 The Vanilla Bean Frappuccino with Strawberry inclusions:
For this drink, order a Vanilla Bean Frappuccino and ask to blend in the strawberry inclusions used in the Strawberry Acai Refresher. You'll get a light pink drink. And the strawberry flavor is a bit subtle. This is a fun drink, but it made me appreciate the classic Strawberries and Creme Frappuccino much more. This doesn't have nearly as much strawberry flavor.
For an extra-strawberry Frappuccino, order the Strawberries and Creme Frappuccino and ask for the strawberry inclusions to be blended in with your Strawberries and Creme Frappuccino.
Strawberry inclusion (normally used in the Strawberry Acai Refresher) are charge of about sixty cents. Since there can be some variation in pricing from region to region, (or whether you're visiting a company-operated store or licensed) please be aware that your charge for the strawberry inclusion might be different than mine, here in Seattle.
THE THUMBS-DOWN DRINKS: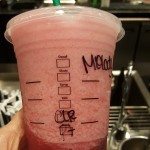 The Pink Lime Frozt. The best of the thumbs-down drinks was the Pink Lime Frozt. If it didn't separate so fast, it would be a lot more wonderful. I included this drink because it was really a Starbucks thing – albeit a test beverage – about five years ago.
The Pink Lime Frozt was basically Passion Tea, Lime juice (from the Cool Lime Refresher mix), Frappuccino base, and ice, all blended together. It's really not that bad. Lime and Passion Tea got surprisingly well together. It just separates super fast. I did a 2012 article on the Pink Lime Frozt here. There was an official Starbucks blog post on the Pink Lime Frozt here.
It might be the only Starbucks-created drink to actually have the word "pink" in its name. Here's an official Starbucks photo of the Pink Lime Frozt: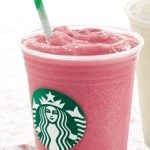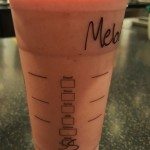 The Strawberry Smoothie: This was a disappointment. The whole line up of smoothies has gone through major recipe changes since they were first introduced in July of 2008. The story of the smoothie at Starbucks began in July 2008. They were born July 15, 2008. Here's the official Starbucks blog post on them. Originally there were just two flavors and they weren't called smoothies at all. They were called "Vivannos."
The original Strawberry Smoothie was launched in July 2009, and again, it was a "Vivanno." Starbucks didn't officially use the word smoothie in 2009.  It included milk, strawberry puree, a banana, ice, and a very high quality protein powder. It only came in a Grande size.
There have been recipe changes since then. Today it is a strawberry juice made by Evolution Fresh, a banana, a protein powder, and ice in a blender. It only comes in a Venti size. For some reason, today it's much more heavier and meal like compared to when it was born in 2009. I couldn't drink it. The modern version of the Strawberry Smoothie even feels like a meal substitute. This might be good if you're starved and you just don't have time for anything else. Otherwise, skip the smoothie and find yourself a wholesome, low carb meal.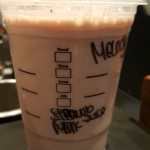 Strawberry Milk. I had heard this was a thing. Someone suggested trying just strawberry puree with cold milk. My understanding is that sometimes kids get a "strawberry milk" at Starbucks. This was kind of gross. Don't do this! I like milk and I like the Starbucks strawberry puree but somehow, I just don't suggest combining them like this. Mine was mostly milk with a hint of strawberry flavor.
By the way, when you are buying cold milk at Starbucks, the standard is that it should be served no ice. For some reason, this will puzzle many but the Starbucks standard for just straight milk is that it's a "no ice" drink.
Enjoy National Pink Day! Did you try a pink drink at Starbucks?
Related posts