Current My Starbucks Rewards promotions: A quick roundup.
Melody, September 18, 2013
37
2 min

read
I thought I would mention a couple of current My Starbucks Rewards promotions, just in case my readers wish to take advantage of them.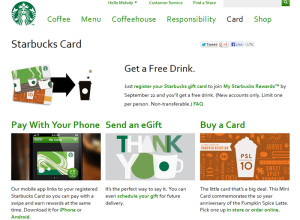 Free Beverage For New My Starbucks Rewards Members:
For those who are not currently enrolled in My Starbucks Rewards, there is a promo for a free beverage, if you enroll before September 22, 2013.  To avoid any confusion, this is a free any-beverage of a customers choosing, and is not a "Lucky Dozen" reward which would be good for food too.  So if you are not participating in MyStarbucksRewards, and you're reading this, you would want to grab a Starbucks card at your local store (you can register any Starbucks card, including an Evolution Fresh card or Teavana card), load money on it, and then register it online at Starbucks.com/card.
There are a few important things to know about this free drink.  The new My Starbucks Rewards members will receive an email asking them to confirm their email address.  The reward will appear before October 1, 2013, and must be used by October 31, 2013.  This is a digital reward.  Check your My Starbucks Card profile to find your reward.
You can read all the fine print for this free beverage offer for new My Starbucks Rewards members here.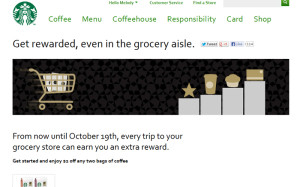 Grocery Store Stars Promotion:
If you buy Starbucks coffee at your local grocery store, there is currently a promotion where you receive extra perks for entering "star codes" from your coffee purchases.  The fourth star code you enter gets you a $10 Starbucks gift card!  You get progressive rewards for entering up to four My Starbucks Rewards "star codes" which are found on whole bean coffee at your grocery store.
The promo webpage includes a downloadable coupon for $2.00 off two pounds of coffee.  Here's that link again.
***
***
Guns, open carry, and Starbucks:
In other news, Howard Schultz has issued a statement on the topic of "open carry" at Starbucks.  Starbucks is now respectfully requesting that customers not open carry in their stores:
http://www.starbucks.com/blog/an-open-letter-from-howard-schultz/1268
As always, please be respectful in the comments.  Once again, here is this blog's comment policy:
"This is my blog and not a public space.  Critical discussion is fine.   I will, however, decline to approve (or  delete your comment) if you descend into personal attacks, inappropriate language, disrespectful behavior, or excessive self-promotion and link-baiting."
Talk about whatever you like!  Hope you get to take advantage of one of the two card promotions!
Related posts