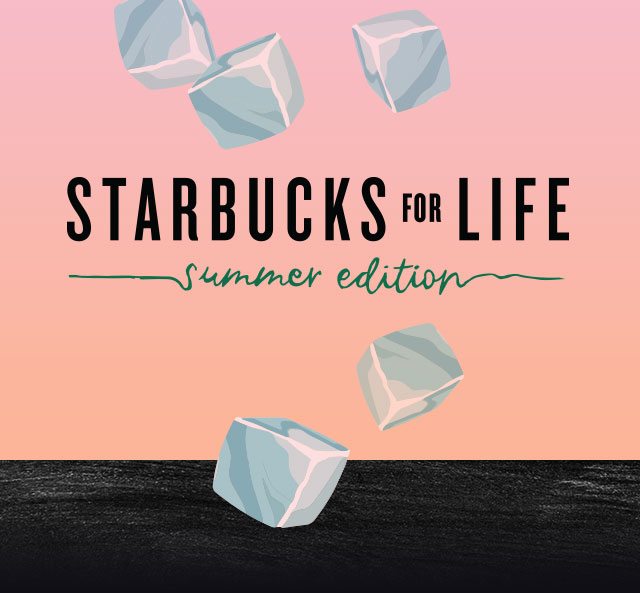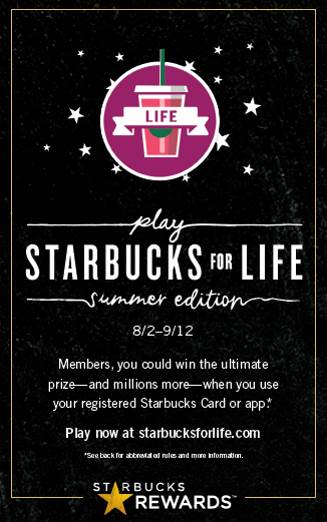 The summer edition of Starbucks for Life game is here. It starts August 2, 2016, and ends on September 12, 2016. Like previous versions of Starbucks for Life game, you're playing game pieces in hopes of winning bonus stars, prizes, and "Starbucks for Life" as the grand prize!
If you win the grand prize of Starbucks for Life, you win a free food or drink (excluding beer and wine and Evenings menu items) from Starbucks once per day, every day, for 30 years!
To play Starbucks for Life, you need to have a registered Starbucks card. Visit this link here:
You can earn up to a maximum of four 'plays' per day. There are two different ways to collect game pieces. First, you can go to the Starbucks for Life website and request free game pieces. Secondly, you can earn up to four game plays from purchases in the store, but keep in mind you can only use a maximum of 2 transactions in the store to earn a total of four game plays. If your transaction in Starbucks is more than $10.00, you earn 2 Starbucks for Life plays. The extra play for spending over $10 in your transaction is considered a 'bonus' play. If you have any transaction less than $10 it's only worth one game play.
The way you get 4 game plays in a day essentially boils down to this:
Earn 4 game plays by following the Starbucks for Life link and follow the instruction for free game pieces. You'll fill out a registration form and then wait for Starbucks to email you a special link for you to get your free game piece. You would have to go through this process 4 times to get 4 free game plays.
Earn 2 game pieces in the store with two normal purchase (that is, the total is less than $10 per transaction) and request 2 free game pieces.
Earn 1 game piece in the store, and request 3 free game pieces.
Earn 4 game pieces in the stores with two transactions over $10 each.
Or any combination of free game pieces and game pieces from purchases!
Five lucky Starbucks customers will win Starbucks for Life. Starbucks employees and their immediate household members or spouses are not eligible to play. Starbucks for Life is open to customers in the U.S. or Canada.
Exclusive prizes:
·        Thirty customers (25 in the U.S. and 5 in Canada) will win Starbucks for a Year
·        150 customers (125 in the U.S. and 25 in Canada) will win Starbucks for a Month
·        550 customers (500 in the U.S. and 50 in Canada) will win Starbucks for a Week.
·        In addition, instant-win Bonus Stars in increments of 125, 25, 10 and 5 Stars will be awarded.
People really do win at Starbucks for Life! Last year, one of my readers won Starbucks for a Month!
Have fun playing Starbucks for Life!
Related posts