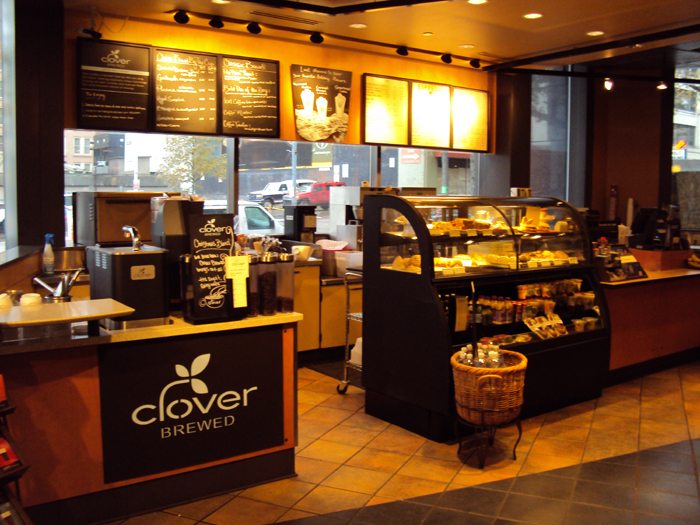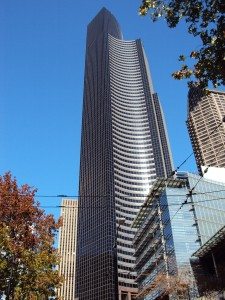 It's time for a Starbucks history lesson…a particular store worth talking about because of its very unique story.  Every Starbucks store has its history, fans, and tall tales. But the Columbia Center Starbucks, located at 4th and Cherry in downtown Seattle, has one of the longest histories of any Starbucks.  The store dates back to the 1980s, a time when there were a handful of Starbucks.  It was Howard Schultz's first store, and originally called "Il Giornale" the name of his espresso bar chain before he purchased Starbucks.  The modern Starbucks was born when Howard Schultz merged his existing Il Giornale business into the coffee company he purchased, called Starbucks (and that's a very abbreviated version of the story).
This store was the earliest Starbucks hub.  Howard Schultz purchased Starbucks on August 15, 1987, and in the book Pour Your Heart Into It he describes going to Il Giornale on that eventful day (now Starbucks store 101, and the store number begins with a "1" because it started as an Il Giornale.)…
"It was a sunny Friday afternoon in August that greeted me when I walked out of the lawyers' offices after closing the deal to acquire Starbucks…
I strode across the street to Columbia Center, to that first Il Giornale store.  At 2 p.m. on a summer afternoon, there was only one other customer, a woman standing at the window, deep in thought.  I greeted the baristas, who had no idea  of the transaction we had just completed.  They made me a doppio macchiato…and a cappuccino for Scott.  We sat on barstools near the window."
Chapter 7, Pour Your Heart Into It
(By the way, as I write this, there are no bar stools at Starbucks store 101 anymore).
The Columbia Center Starbucks opened as Howard Schultz's first Il Giornale on April 8, 1986.  In 1986, if you had walked into this Il Giornale coffeehouse, here's what you would have experienced:
"In that first store, we were determined to re-create a true Italian-style coffee bar.  Our primary mission was to be authentic.  We didn't want anything to dilute the integrity of the espresso and the Italian coffee bar experience in Seattle.  For music, we played only Italian opera. The baristas wore white shirts and bow ties.  All service was stand-up, with no seating.  We hung national and international newspapers on roads on the wall.  The menu was covered with Italian words.  Even the decor was Italian."
Chapter 6, Pour Your Heart Into It
In the year 2010, the customer based hasn't changed one bit for this store (stand up seating makes some sense for this intensely busy store).  From Pour Your Heart Into It, we learn that "[o]ur customers, most of whom worked in the busy downtown office buildings nearby, were always in a hurry."  This is absolutely still true. The store clientele is almost entirely very hurried business professionals, some lawyers, some judges, county and city employees.  You could sit in the store for a week and never see  a minor. One time I saw a court bailiff (whom I recognized) using a courtfile cart to make a "Starbucks run" for all the court-staff in her courtroom at Seattle Municipal Court!
So why am I writing this short blog post about the Columbia Center?
First, in some ways, I get the sense nothing has changed. It's still – by design of the location – a central hub of activity for that area of downtown. It is literally close to the King County Court House, Seattle Municipal Court, King County Administration Building, City Hall, and other governmental buildings.  Starbucks where you're most likely to run into an elected Seattle official? Columbia Center Starbucks.
Secondly, the unique story behind this store is worth telling.  Really, no other Starbucks has this unique legacy.  It's as important to the development of Starbucks as the story of the original Starbucks at 1912 Pike Place.
Third, by chance, this is a regular Starbucks for me because it is both a Clover location as well as being centrally located to Seattle's courts.  These days, you're much more likely to find "Starbucks Melody" at the Columbia Center Starbucks than the big H in deliberations over whether paper cups are needed to run a coffee business…
"We even debated whether we should have paper cups for the to-go business, which we knew would constitute a large part of our revenues.  Although espresso tastes better in ceramic cups, we didn't really have a choice:  If we didn't offer coffee to go, business would have been minimal."
Chapter 6, Pour Your Heart Into It
Recently, a Starbucks partner who has been with Starbucks about 14 years told me that she remembered the Columbia Center store being the main training store in the mid to late 1990s.  In that era, you learned about coffee and espresso first in a training setting before being given on-the-job training.  Modernly, this Starbucks has a great team of baristas who work together to deliver quick drinks with a smile.  The current store manager is "Hallie".  Several coffee masters will help you pick out some great coffee. They are a fantastic team.
Just to point out what kind of a great team this store has, here is a mystarbucksidea.com thread with props for the store (I have no idea who "SeattleBuber" is who started the thread):
For a previous blog entry mentioning the Columbia Center, click here.  That blog entry focused on an older version of the Siren logo.
And for a current look at the inside of the Columbia Center (inside photos taken 12-31-2009 – Note, there is no Christmas Blend in the store because this Starbucks sold through ALL their Christmas Blend in flavorlock bags):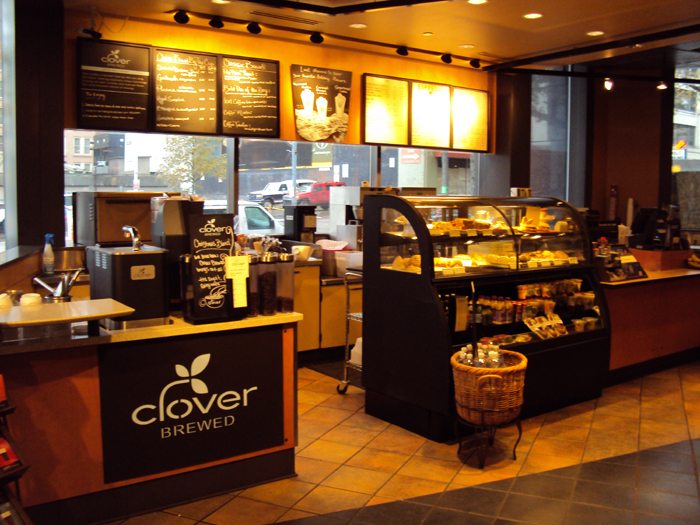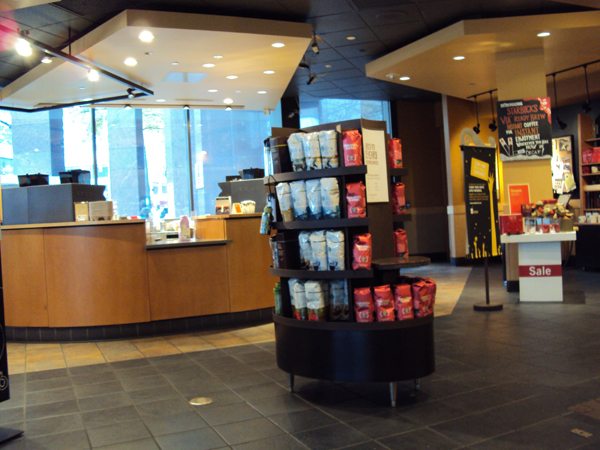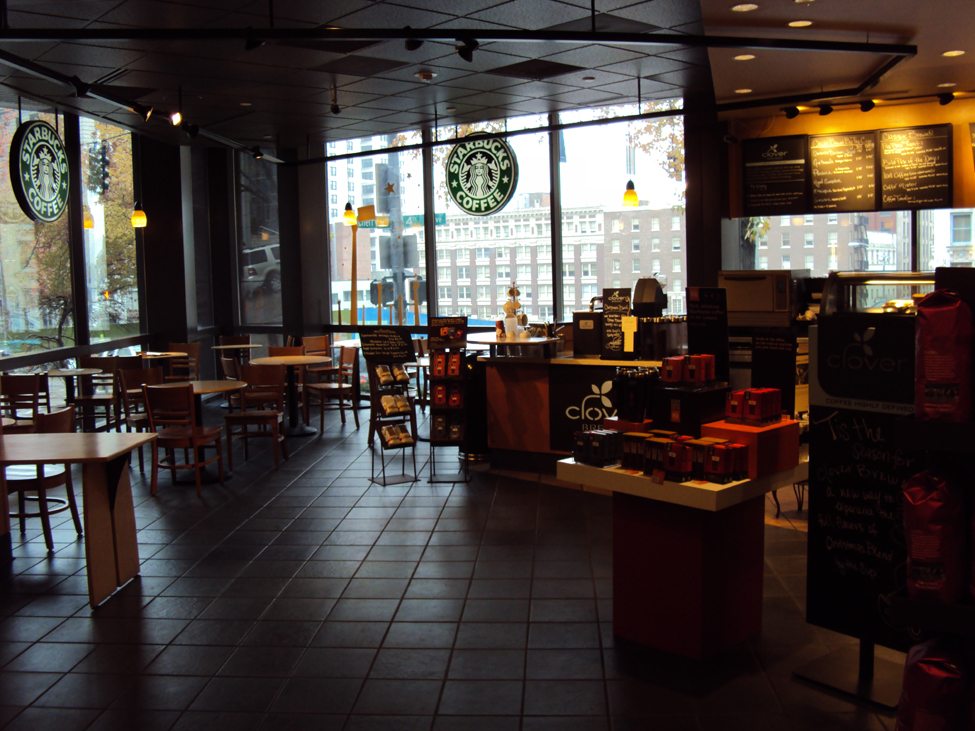 And for a few pictures, taken on a beautiful October day 2009:
Related posts