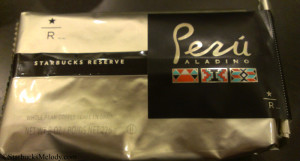 The latest Starbucks Reserve coffee is the Peru Aladino.  On March 16th, I went to a coffee seminar for this new Reserve (held at the 7th and Pike Starbucks) and thoroughly enjoyed  the event.  There were about six people in attendance – three were customers, and three were partners.  I had a lot of fun meeting another customer (Dave) who was super enthusiastic about experiencing coffee!
The Peru Aladino seminar was lead by Starbucks Coffee Master Jay.  He walked us through the four steps of a tasting, and then we paired the coffee with the small Salted Almond Chocolate bites.  (The four steps are as follows: Smell, Slurp, Locate where the flavor hits in the mouth, and Describe what you're tasting.)  I will admit, I was suspicious whether the salted chocolate almonds would work as a pairing.  I questioned Jay: "Did you try this pairing first?"  And, he assured me that he had.  Before I tried it, I thought for sure that the salt in these chocolate bites would interfere with tasting the coffee.  I was wrong.  It was a fabulous pairing.  The Peru is very complex for a single-origin Latin American coffee, and the almond and chocolate really highlighted the cocoa and nut flavors in the coffee.  (Tonight's coffee was Clover brewed.)
The Peru Aladino is described as having a very unique process method.  The coffee farmer, Aladino Delgado, uses above-ground earthenware tanks to ferment the coffee beans, and then the beans are dried in a greenhouse.  That is definitely one-of-a-kind for a Latin American coffee!  The result is a pretty bold, soft, coffee with floral and citrus notes.  I noticed the coffee has a lingering flavor  in the mouth, unlike the typical crisp and clean mouth-feel of many Latin American coffees.
By the way, the aroma of the coffee beans was fantastic!  I love smelling the coffee beans!  I could spend all day with my nose in bags of coffee, as silly as that sounds.
Thank you Jay for the great coffee event!
(You can order Peru Aladino at StarbucksStore.com.  It's $12 for a half pound).
I liked this coffee so much that I bought a half-pound, which I made this morning through a pour over.  I am drinking it right now as I put the final touches on this article!  I like the soft, nutty-citrus flavor profile of the Peru!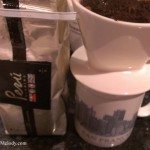 Enjoy the rest of the pictures from the event!
Related posts