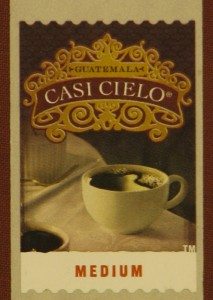 Casi Cielo whole bean coffee returns to Starbucks on January 12, 2010! This annual seasonal offering was first created by Starbucks for the Seattle restaurant, Canlis, and other fine dining establishments.  Introduced and unveiled officially in October 2004, this blend is now in its fifth year.
It is only offered in Starbucks stores during the Winter season each year, and it's an amazing blend of Latin American beans with a medium body to it.  Canlis, a luxurious dining experience, offers its customers Casi Cielo coffee year-round, and I've frequently been told that Canlis has a Clover brewer too.
This coffee was blended to be experienced with fine dining, whether through a Clover, in a press, or drip-brewed. The beans come from four farms in the Antigua region of Guatemala, and the beans are grown at altitudes above 5000 feet.
The Antigua Valley is arguably the most world-renowned area in the world for quality coffee production and it is surrounded by three volcanoes (Agua, Acatenango, and Fuego).  Two of the farms that continually produced beans for Casi Cielo have medical facilities on them built by Starbucks funding. (Finca San Miguel and Finca Santa Clara).
My own love affair with Casi Cielo was solidified in January 2008.  On a Winter's day in Seattle, I stepped into the Starbucks store number 3289 at 6th and Union in downtown Seattle. By good luck, I found the Clover brewer, and my very first cup of coffee brewed on a Clover was a tall cup of Casi Cielo. I loved it. That was it. Hook, line, and sinker, Casi Cielo  and the Clover had me.  The Canlis website boasts that this is Starbucks' second most popular whole bean coffee, following only Christmas Blend!
A little known fact about Casi Cielo is that Starbucks does roast a very small quantity of decaf Casi Cielo coffee for Canlis and a handful of other restaurants only.  Decaf Casi Cielo is not available at Starbucks stores.
Just for fun, in this blog entry I am including a YouTube video produced by the legendary Jason Coffee of  Coffee Cup News – In this video he is doing a tasting of a 2009 bag of Casi Cielo:  Enjoy your Casi Cielo!!
If you enjoyed this blog entry, you might also enjoy some of StarbucksMelody's other whole bean coffee focused blog posts:
Related posts