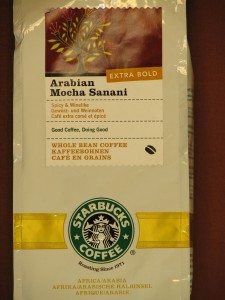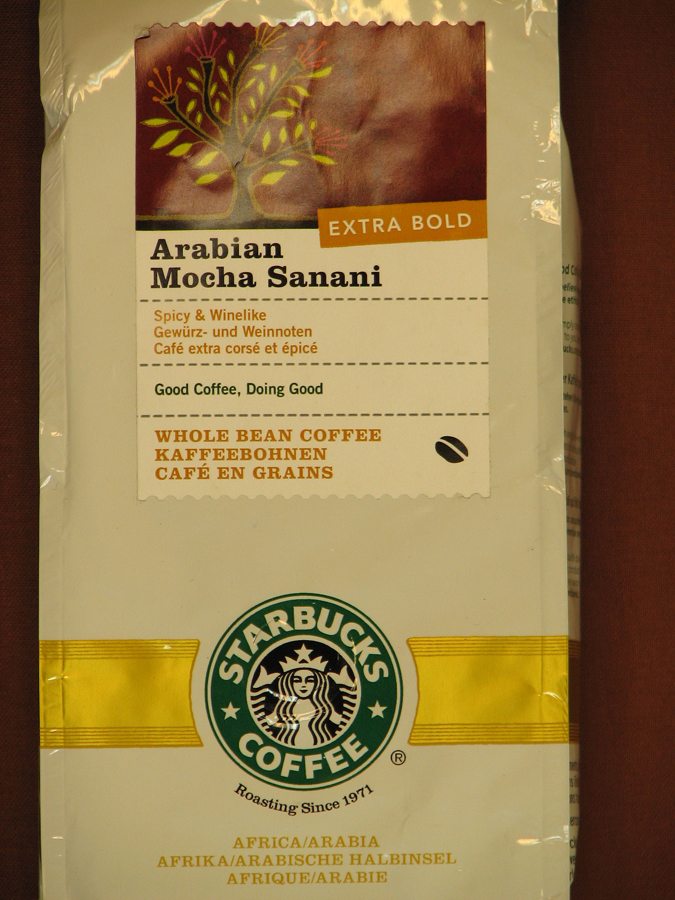 Consider this blog post your introduction to a coffee cupping and Arabian Mocha Sanani.  Please join me in today's coffee cupping at 15th Avenue Coffee and Tea. (Cupping was Saturday, December 19, 2009).
Once upon a time, Arabian Mocha Sanani was a core coffee at every Starbucks store.  Then, roughly about one to two years ago, Starbucks narrowed the availability of this great coffee.  Likely, the supply of the bean was too thin to send to over 6000 stores world-wide, and so the result was that this great coffee was eliminated from the North American market.  Sanani returns to North America now and then as a seasonal, limited once a year offering.  However, the UK and Ireland never removed Sanani from their core line up, and still to this day, our friends in England and Ireland can enjoy a great cup of Arabian Mocha Sanani by Starbucks Coffee any time they want. I am jealous.
Lucky for me, a Starbucks partner in London, knowing my passion for Sanani, has generously given me a bag to indulge in.  A photo of the coffee is attached – Notice that the packaging looks a little different than the Americanized coffee packaging.  Starbucks' Sanani coffee is roasted at their Amsterdam roasting facility.  I received a precious pound of this coffee from my friend in London just this past week, and then took it to 15th Avenue Coffee and Tea on Saturday the 19th for their daily cupping experience.
From the Starbucks website, we hear that Sanani is "our most exotic and unpredictable coffee, laden with flavors of deep port wine, berry fruit, warm earthen spices and cocoa."  It definitely is a rich, deep, exotic experience in a cup of coffee where wine notes and berries come together.
The coffee comes from Yemen, which rests on the Indian Ocean. Sanani refers to the coffee-growing region around Sana'a, the capital of Yemen.  Starbucks recommends pairing this coffee with items like a currant scone or a slice of spicy carrot cake, if you're doing a coffee "tasting" with this coffee.
Today, I experienced this coffee as part of a "cupping", which is not the same thing as a regular coffee "tasting".  A cupping does not involve pairing the coffee with any food, but rather it is an exercise in experiencing the flavor of coffee on your palate and in your mouth, and discerning the sharp differences in coffees from a few different growing regions.  A cupping of coffee is what roasters and those who source coffee do to determine which coffees they'll buy, and determine the best roast level for the coffee bean. A "cupping" is an important part of  continuing coffee education.  A "tasting" is an experience of one or two coffees, often eaten with food, and a "cupping" is about really understanding each coffee's unique flavor profile.  In contrast, with a "tasting" there is often a discussion as to how the food paired with coffee brings out or changes the coffee's flavors.
I arrived at 15th Avenue Coffee and immediately told a barista that I had brought a pound of Sanani to cup with the other coffees. The barista pretty quickly ripped open the package and had a good smell of the aroma of Sanani.  Typically, Sanani has spicy, wine-like notes to it.
The cupping process begins with a barista weighing out 14 grams of beans.  I've been to many many Starbucks cuppings and it is always 14 grams of beans. Sorry, but I don't know why that is the magic number. The beans are ground through a grinder at a finer grind, close to an espresso grind. The cups of ground beans are placed on the cupping table, in order from lightest body to boldest. Just as with a wine tasting, the heaviest wine is last, so is true for a coffee cupping too.
In the next step, the barista adds water to the beans.  My understanding is that the water is "hot off the boil" and that the coffee 'brews' for approximately 3 to 4 minutes.  A crust-like layer forms at the top of the cupping cup. This is not a crema and it is not to be consumed!  Next the crust is broken and the cupping participants get a good smell of the aroma of the coffees.
In the next step, customers and baristas remove the crust.  This actually takes some skill to do without removing too much coffee or making a mess. Either that, or I still need remedial crust removal training.
And now finally comes the best part of a cupping: You taste the coffee. Each participant takes a cupping spoon, and scoops a small amount of coffee from the cup. Now comes the part where each person slurps loudly and either spits out the coffee, or consumes it.  This is the place where there is magic. About four other customers participated in today's cupping, and one immediately said that the Ethiopian Yirgacheffe, tasted "dessert like".  Another participant honed in on the "floral" notes of the Panama La Esmeralda Diamond Mountain coffee.  Both of these two coffees are current offerings at the Starbucks Clover locations. (A Clover is a special brewer and at this time less than one percent of all Starbucks have a Clover brewer.  The small number of Starbucks with a Clover also receive a supply of "small batch" coffee which are usually limited supply single-origin coffees.).
Today we cupped the following coffees:
* Unnamed 15th Avenue Coffee (a barista early in the morning had grabbed some beans from the display green bean bags and tried roasting it in the store's toaster oven.  It was most likely a bean from Guatemala).
* Starbucks Panama La Esmeralda Diamond Mountain (Currently available at all Clover Starbucks)
* Starbucks Guatemala Finca Medina
* A Kenya Gichathi-ini from another roaster
* Starbucks Ethiopia Sun Dried Yirgacheffe (Currently available at all Clover Starbucks)
* Starbucks Arabian Mocha Sanani (Currently available at Starbucks in the UK and Ireland)
Notice the coffee cupping spoons too in the pictures below; they're nice heavy weight spoons with the Starbucks logo on them!  Click on the pictures to view the full sized version (the cupping spoon will be pictured in full).
Here's the pictorial story of today's cupping: Enjoy!  (Special thank you to Larry Aldrich of Seattle Custom Framing for his assistance with some of the photography).
[[Edit on 12-20-2009 – I've made a few edits for grammar. Also, just a reminder, there is a related blog entry here discussing the two mercantile Starbucks stores, and how they're different from a regular Starbucks. There are two non-branded Starbucks – 15th Avenue Coffee and Tea, and Roy Street Coffee.]]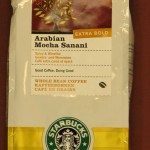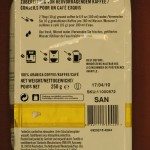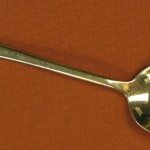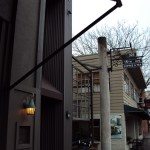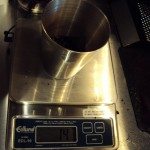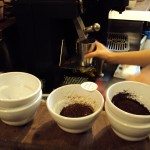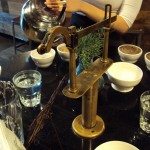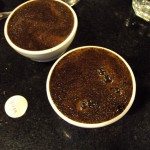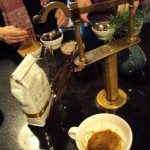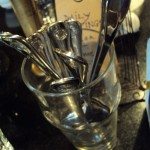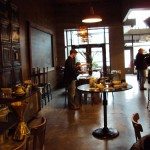 Related posts