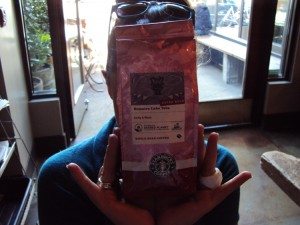 Now available in limited international markets, Starbucks is offering Sumatra Lake Toba coffee.  It is from the Lake Toba region of Sumatra and is described as "earthy and woody".  Some interesting facts about this coffee and its growing region:  This coffee comes from three select villages perched on the shores of Lake Toba, a volcanic crater lake in northern Sumatra.  Lake Toba is the largest volcano-tectonic lake in the world – 54 miles (86.90 km) long and 17 miles (27.35 km) wide.
As good luck would have it, a twitter follower of mine (located in Amsterdam) sent me a bag of this precious coffee to try.  And as I have done many times in the past, I ran to 15th Avenue Coffee and Tea and asked them to cup it with their daily cupping.
On June 13, 2010 barista-Lauren did the daily cupping at 15th Avenue Coffee and Tea, and we cupped the following coffees:
Sumatra (core line up coffee)
Sumatra Lake Toba (limited international Starbucks coffee)
Sulawesi Kalosi (currently a seasonal Starbucks Clover small batch coffee offering)
Three customers joined in the cupping, hosted by barista-Lauren.  Everyone loved the Sumatra Lake Toba.  Several of us noted a sort of creamy mouth-feel with hints of cocoa to the Sumatra Lake Toba, like a nice chocolate pudding.  Though the packaging describes it completely differently, so we were a little surprised to get so many cocoa notes out of the Lake Toba.  At the end of the cupping, Lauren and I tried the Lake Toba on the Clover and suddenly we both picked up the more herbal notes that this coffee is known for, but the creamy mouth-feel lingered.
The customers loved the cupping.  One particularly liked the Three Region Blend.  It was definitely a success.
I write frequently about cuppings and 15th Avenue Coffee and Tea, and so if you're brand new to this blog, there have been a few key previous blog posts to help explain why I'm often writing about these two things and what I mean when I talk about a "cupping":
There are two street-level Starbucks – This is a great blog entry to explain that there are two totally uniquely stores operated by Starbucks
Your introduction to a cupping at 15th Avenue Coffee and Tea – The reason this is a great blog post is because it involves some conversation about my very favorite coffee (Arabian Mocha Sanani) and talks about the difference between a coffee "cupping" and a coffee "tasting" which are really two different kinds of coffee education experiences.
Sumatra Aceh and Sumatra Siborong-Borong – Continuing Coffee Education – This blog entry talks about two more very rare Starbucks Sumatra coffees.  My understanding is that Starbucks produced four very small batch Sumatra coffees, all coming from different regions, from small farms or small cooperatives.  I've had the chance to try three of the four coffees: Sumatra Aceh, Sumatra Lake Toba, and Sumtara Siborong-Borong.
As always, here are some photos from today's event.  Does anyone else love this coffee?
Related posts