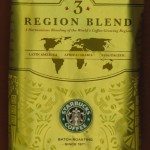 Right now for a limited time, Starbucks is offering a promotional coffee blend called, "Three Region Blend".  It is the first time that Starbucks has blended together, in perfect harmony, coffee highlighting the best of the three major coffee growing regions (Latin America, Africa, and Asia-Pacific).  My understanding is that all of the beans used in the blend are prepared by a "wash"  or "wet" processing method, which tends to lead to a cleaner finish to the coffee.  This is a little unusual for beans grown in Asia-Pacific because often times one will find a semi-wash processing method there. Three Region blend is a blend of coffees from Guatemala, New Guinea, and Tanzania.
One thing about this blend is that although it is classified as a bold, it really is squarely a medium to me.  It feels like a lighter roast than what Starbucks usually does as its signature roast.  The body is not overwhelming in the mouth, and it is flavorful but with a clean mouth-feel, in my humble opinion (remember I'm not a coffee master!).
Today Starbucks Coffee Masters Heidi and Jeremy helped me explore what kind of foods pair with this coffee and why each food brings out a different facet of this blend.  At this coffee tasting event, customers learned about the three steps of a coffee tasting, and paired 3 Region Blend with three foods.  The event lasted about 45 minutes, with customers coming and going. A small group of four customers stayed for the entire thing; all four appeared excited and eager to learn and explore the steps of a coffee tasting.  The group of four included locals and tourists. A young girl tourist-ing at the market from Germany said that she was excited to stumble upon the event. The four customers who stayed for the entire presentation each left with their own pound of 3 Region Blend*.  The German tourist told Coffee Master Jeremy, "I love coffee more than I ever have before."
The first of the 3 food paired for this tasting was black plums.  From Heidi's notes:
We tasted a black plum in order to bring out the subtle acidity that can be attributed to the New Guinea coffee.  Coffee from New Guinea is said to often have a "stone fruit" taste, and this is brought out particularly when the coffee is washed.  We spoke with the tasters here about the use of the term "acidity" when describing coffee, and how those flavor descriptors can range from lemon to grapefruit to plum.  The plums were some of the first of the season, and are the only ones currently available at the Pike Market fruit stands.  …We tasted the flesh of the plum first, then the skin, which allowed for varying degrees of intensity in flavor and in complement to the acidity in the coffee.
Black plums are a treat to pair with 3 Region Blend and I recommend others try this.  By the way, if this coffee were a darker roast, with a heavier body, it perhaps would overwhelm plums, but this pairs quite well with 3 Region Blend.
The next item paired with 3 Region Blend was chocolate, intended to bring out the Latin American component of the 3 Region Blend.  The chocolate was listed as 85% dark chocolate with cocoa nibs.  It was produced by BlanxArt chocolates.  This chocolate was rich and deep, and I had to wonder if it wasn't a little overwhelming for this very smooth and clean coffee. I'm sure chocolate lovers would love this chocolate.
The last food item paired with 3 Region Blend was a pastry from Piroshky Piroshky from 1908 Pike Place in the Market.   The braid  of the Piroshky Piroshky pastry is made of a sweet biscuit dough, and contains cinnamon, cardamom, nutmeg, pecans, golden raisins, and a cardamom-raisin glaze (the drizzle on top).  The spices bring out the typically African "brown spice" notes in the 3 Region Blend.  Heidi felt like this pairing created little spicy explosions in the mouth.
This event was a huge hit. Customers loved it. At the very end, in the moment that nearly made me weep on the spot, as I gave an older woman her pound of coffee, I saw her eyes beaming with pride, and she says, "I'm a stockholder too".  Maybe you had to be there, but this coffee tasting was precisely the beautiful kind of thing that Starbucks can be, at their best.
If you're interested in reading about my previous coffee tasting adventure with Heidi and Jeremy, take a look at this previous blog post here:
For the love of Mexico Chiapas (Starbucks coffee tasting)
*Some promotional consideration was provided by StarbucksMelody.
And it wouldn't be a Starbucks Melody blog post without a few pictures:
Related posts