Partnership and Collaboration: The new Starbucks Conservation International Card
Melody, March 9, 2010
23
2 min

read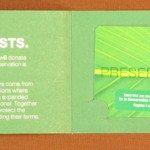 Starting today, Starbucks is offering a Conservation International card! I love it. Starbucks has been in partnership with Conservation International since 1998.  This partnership has always made enormous sense because of the shared goals of preserving the fragile environment in coffee growing regions of the world.  With the new Conservation International card, Starbucks will donate five cents with every purchase made with this card from now through December 31, 2010.
While I totally support Starbucks' collaboration with (Red), I think that the Conservation International card is far more compelling.  The partnership with Conservation International led to the launch of Shade Grown Mexico coffee after working with farmers to preserve the El Triunfo Biosphere Reserve region of Chiapas, Mexico and ultimately C.I. worked with Starbucks to create the coffee sourcing standards known as C.A.F.E. practices.
In 2008, at the annual meeting of shareholders, Starbucks announced a renewed commitment to Conservation International and promised deepened collaboration with the organization.  At one point, I had actually toyed with the idea at this year's meeting of asking (during the Q & A session of the meeting) "In 2008 we heard about a renewed commitment to Conservation International, but what undertakings has Starbucks done with them lately?" In light of the new C.I. card, that question loses much of its steam.  This leaves me again trying to figure out what I might ask at this year's meeting.  If anyone has ideas of what would be good question to ask the leadership at Starbucks during this year's annual meeting, please do tell: I'm all ears.
As a reminder, you can use ANY card to participate in My Starbucks Rewards.  You can earn "stars" towards free beverages and coupons with your new Conservation International card.  Just be sure to register your card, load some money on it, and pay for your purchases with your card, and then you're well on your way. If you have another card you're using, just add the Conservation International card to your existing Starbucks.Com card profile and you can transfer funds online from one card to the next.  You are not bound to use a black card, or a gold card to earn stars in the My Starbucks Rewards program. The My Starbucks Rewards program where you earn "stars" towards free beverages is for the United States only.
If you like this blog entry, you might also enjoy…
Related posts