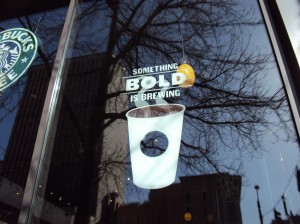 As of yesterday, Starbucks is promoting their bold brews. I want to enjoy every minute of it: All 80,640 minutes of the bold brewed promotion. It is 8 weeks of showcasing the bold coffee line-up with a chance to get a free pound of coffee at the end, so long as you complied with the rules! The clock is already ticking and there is no intermission and no Tivo option here either.
It has been too long since we've seen bold brewed coffee take the front stage at Starbucks.  Since April 2008, Starbucks has promoted and showcased their everyday brew, Pike Place Roast.  Yes, Pike Place Roast has its fans, but Starbucks was built on dark, rich, coffee.
Here is the deal:
– Go to a Starbucks.
– Order a tall or larger "bold coffee of the week."
– Enjoy your boldly roasted coffee.
– Be sure to smell it.
– You can even slurp a little. I don't recommend spilling it on your suit though.
– Notice the heavy weight of the coffee in your mouth and deep caramelized notes. Now that is bold.
– Ask your barista, 'hey can I have one of those tri-fold coffee tour sheets that look like a Reader's Digest version of a coffee passport.  And oh by the way, I need a sticker too.'
– Repeat the above steps 8 times.
– At the end of the 8 weeks, return to Starbucks with all 8 stickers on your sticker-collecting sheet, and turn it in for a free pound of coffee!
There are a few variations on the above theme:  At any time, you may make ONE substitution of Pike Place Roast instead of the "bold pick of the week" coffee.  If you really want to just buy a pound of the coffee of the week rather than a tall beverage, you may do that instead and receive a sticker.
I was thinking that the most enthusiastic bold coffee drinkers could stick their  face right into the circular cut-out window signage that says, "something bold is brewing" and have a really funny picture taken of them. 'This is the face of a hard-core bold coffee drinker,' would read the caption.  It would be reminiscent of the previous (Red) pictures.  So in the image above that goes with this blog post, just mentally imagine yourself or some bold coffee drinker that you know smiling big, nose pressed against the glass, with a happy face right under "something bold is brewing."  Preferably, this person you know should have a bold personality too, though that is not a requirement here.
Here is the line up of bold brewed coffee over the next 8 weeks, errr, I mean 80,640 minutes! (Somewhere, some 24-hour Starbucks really is having 80,640 minutes of this promotion).
March 9 – 14 – Yukon Blend
March 15 – 21 – Italian Roast
March 22 – 28 – East African Blend (the coffee blend formerly known as (Red))
March 29 – April 4 – Komodo Dragon
April 5 – 11 – Caffè Verona
April 12 – 18 – Cafè Estima
April 19 – 25 – Gold Coast Blend
April 26 – May 3 – Sumatra
How is everyone's coffee sticker collecting and bold coffee adventure going? We're only on day two but has anyone else already gotten their Yukon sticker?
Also, I definitely challenge people to take fun pics of smiling faces in the classic Starbucks cup circular cut out and email to me (if you have any such interest). If I get more than handful of them, I'll be glad to feature the fun pics as a blog post! My email address is Sbux206@StarbucksMelody.com
Related posts