The Starbucks chalk art contest: Entries and winners
Melody, March 7, 2010
57
4 min

read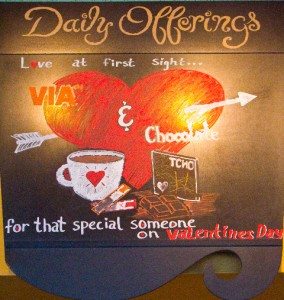 On February 11, 2010, I announced a contest to find Starbucks barista art.  See previous blog entry:
Anyone could enter, though I listed quite a few rules.  You could just find barista art, snap a pic, follow the rules and enter.  Here are the entries. Keep in mind that I have listed the name of the person who submitted the photo (who may or may not be a partner), and the store information (store number where possible) where the art is found.  I realize in hindsight that I was pretty vague as to when the art had to be hanging up in the store. It absolutely must have been hanging in a Starbucks at some point, and what I intended is that it has to be fairly current – within the last 90 days of this blog contest.  Some of the artwork seems a little dated to me, but mostly I'm giving people the benefit of the doubt, since I was pretty vague.
Just as a reminder, the art contest was inspired by me finding this in a Starbucks:
Here are the four winners – it was NOT easy to pick!:
#1 – This entry was submitted by Christopher and currently is on display at Starbucks store 2640, located in Milford, Ohio. It is chalk art for Caffe Verona, inspired by Romeo and Juliette.
#2 – This entry was submitted by Larissa who thought my art contest timing was remarkable: how "strange it is that you post a contest the day after my store does an epic collage of time and chalk markers. And the one time I actually brought my camera in!"  This chalk art is on display at a Chapters Starbucks in Alberta, Canada, Starbucks store 4337.  This is just incredibly unique, and from what I hear, five baristas pitched in to make this art display.  If I were to walk into a Starbucks as see this chalkboard art, I might think that a graffiti artist was let loose in their store, but after a momentary skip of the heartbeat, I'd be able to appreciate the effort, the uniqueness, and the store's personality all poured into one large massive piece of art.
#3 – This entry is Via paired with TCHO chocolates and is a recent chalkboard art at Starbucks store 7776 in Gibsonia, Pennsylvania. How incredibly beautiful that heart is. The coloring in it comes to life. It's hard to believe that that is really just some chalk art pens.  Thank you Ken for entering this! And this is what Via looks like when it pours its heart into chalkboard art: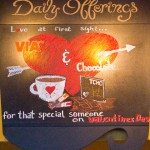 #4 – From Eureka, California, I received a pic of a fabulous pumpkin spice latte chalkboard art, though I wish there had been another photo of it without the pen in the way. But I can still see the uniqueness to it, and it looks professional! I love the steam-lady with the pumpkin hair barrette. Great detail in this one: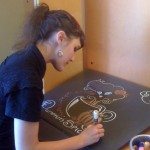 There were too many entries for me put a caption underneath each one of them; it would have made displaying all the pics messy.  I saved each entry with the name of the person who submitted it, the store location, and some identifier of what it is. Somewhere in the mix of the pics below is included my photo from the store at 1912 Pike Place – obviously I am not entering my own contest but including it just for fun. One thing I hadn't thought about when I started the chalkboard art contest is exactly how much chalk art space a Starbucks might have. I realize that a tiny kiosk store might not have any, but it never occurred to me that any store would be remodeled to have an entire wall of chalkboard. Store 2363 in Wisconsin is phenomenal.  From what I hear, when store design gave it a refresh, in order to make it more integrated with its surroundings and the theme of its surroundings (Marquette University) it was designed with an entire wall for chalk board art.  Well, it most certainly fits with it being near a university.   Below, there is a Casi Cielo drawing submitted from store 2363.
The entries:
Related posts