Starbucks listens to the vegetarians
Melody, June 24, 2010
44
1 min

read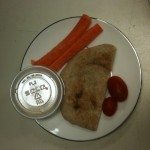 Those who are vegetarians have been asking Starbucks for more vegetarian food options.  This is a common theme at My Starbucks Idea.  Coming soon (I believe on June 29, 2010) Starbucks is introducing two new food items, designed for the vegetarian diet.  I bet that even those of us who are not vegetarians are going to enjoy this.  The two new food items are the Hummus Plate and the Ratatouille Sandwich.  I believe that the Hummus Plate counts as "vegan" too, for the vegans.  However since the hummus involves cooked garbanzo beans, I guess this still isn't the solution for the raw food enthusiasts at Starbucks.
The photo that accompanies this blog post features the Hummus Plate.  I don't have any images for the new Ratatouille Sandwich, but I hear that it will feature roasted zucchini, eggplant, red peppers, spinach, and provolone on focaccia bread.  This sounds like a vegetarian item, though I don't think it is "vegan".
I'm sure I will try these items just to try them, but it's not what I gravitate towards when I want food.  Nothing quite beats the Perfect Oatmeal – It's hot, it's the right size, and quick and easy.  I assume it's vegetarian too, though that's not why I buy it.  When I want real food at Starbucks, usually that means I get the Perfect Oatmeal, or sometimes the Vivanno Smoothie.  I assume the smoothie counts as vegetarian too.  But I might get these two new items for a change of pace too!  If anyone has any more information on them, I'm all ears.
Related posts