Does anyone remember Starbucks Christmas 2006?
Melody, August 27, 2010
40
2 min

read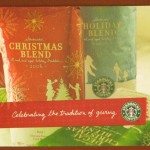 As my readers know from this blog, any time of year is a fine time to talk about Christmas merchandise in a Starbucks.  This extremely short blog post is simply a visual look at all the merchandise that Starbucks offered during Christmas season 2006.
A regular blog reader sent me this little booklet, thinking it could be another chance to memorialize Starbucks history.  I enjoyed flipping through this little book, and hope you do too.  A couple of things that are worth noting about this holiday merchandise:  First, there seems to be several options in terms of brewing equipment.  I haven't seen a coffee brewer (other than a French press) inside a Starbucks in a long time.  Next, somehow the style of the marketing reminds me a lot of Pier 1 Imports.  Molly (who helps me with the photography on this blog) immediately commented that it looks like the marketing takes its cue from a Pier 1 Imports catalog.  Of course, once she said that I saw the immediate resemblence.  Lastly, I haven't seen any espresso machines for sale inside a Starbucks in a while either.
If you're looking for my previous blog posts that relate to Christmas or holiday merchandise, here are the links:
This was only a few years ago, but it seems like Starbucks has changed so much since this 2006 booklet was produced.  I definitely wonder what they will come up with for this year!
Any guesses on what is coming for Christmas 2010 merchandise?
Related posts