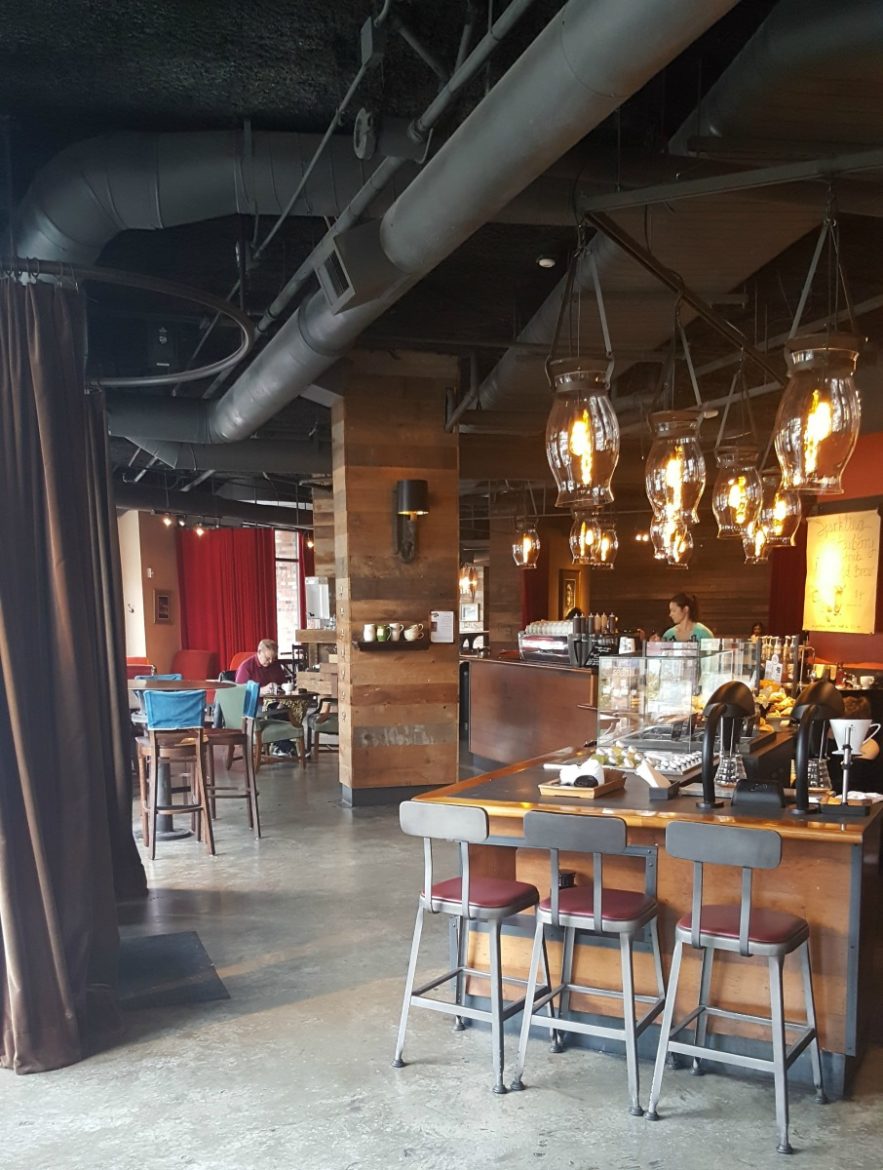 I'm going to put a huge spotlight on Roy Street right now. I find that even some very knowledgeable Starbucks partners know little about it. It's essential for your Starbucks world of knowledge and it's a must-visit destination when you're in Seattle.
Roy Street opened new at 6:00 AM on November 18, 2009. The afternoon before I had received an email from an SSC partner inviting me inside for an early look, the night before the grand opening. I took only a few dark photos, but here it is the night before its grand opening.
Roy Street is considered a "learning laboratory" by Starbucks. That is, it's a place where Starbucks can experiment freely with products, beverages, and food. Over the years, Roy Street has offered many unique seasonal of limited-time beverages, such as the Iced Japanese Macchiato, the Acorn Squash Latte, the current offering of the Sparkling Strawberry Shrub Cold Brew, and the Chocolate Stout Espresso Con Panna which included a whipped cream with a "milk stout beer" as an ingredient.
The current Strawberry Shrub Cold Brew is made with house-made cold brew (made using core Guatemala Antigua), strawberry shrub syrup made from scratch, and Cava Bonaval champagne from Spain: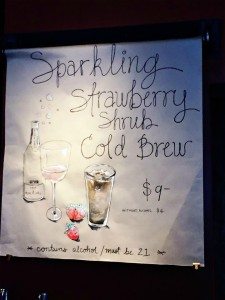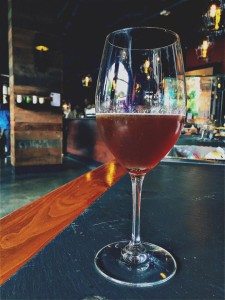 Very briefly, Roy Street experimented with a Reserve traceability coffee education table, which I mentioned in a blog post here.
The current espresso machine at the Roy Street store is a Nuova Simonelli Black Eagle, although when the store was brand new it used a Synesso espresso machine. Sometimes people wonder if there are more Roy Street type locations. Roy Street is actually considered an "inspired by Starbucks" store. That is the the concept store designation in the world of Starbucks: "inspired by Starbucks." There used to be two U.S. "inspired by Starbucks" stores. One is Roy Street and the other was the Starbucks store located at 328 – 15th Avenue East. However, the location at 328 – 15th Avenue East is now fully a Starbucks, and is no longer branded as an "inspired by Starbucks" store. I've consistently heard that there are 3 "inspired by Starbucks" stores in Japan. In fact, the fact that there are 3 "inspired by Starbucks" concept stores in Japan is mentioned in this blog post here.
Roy Street is the only United States store where you can get a pour over made with the fancy Seraphim machine. The baristas grind the coffee, pour it into the filters, and the machine meticulously pours the water over the coffee grounds, creating a pour over. I've ordered many, many coffees made by the Seraphim and it's fabulous. I'd almost say it's better than a manual pour over because it's consistently perfect every single time: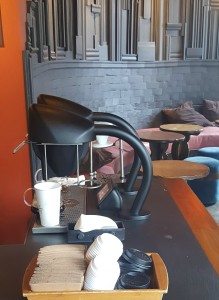 When Roy Street was new, the idea of building Starbucks locations to LEED certifications was actually new for Starbucks. Now, it's common for Starbucks to build LEED certified stores. I had been contacted by an official Starbucks marketing person about the time that Roy Street opened and was told this, "Roy St. is the 8th Starbucks store to be built according to LEED standards, and it's the 2nd to open as part of the LEED Volume Certification pilot." It's funny to think that Roy Street was only the 8th LEED built store, because that's the standard now for all new stores. Part of being LEED means that the store must use "re-purposed" items in some way. Much of the furnishings are the same now as they were in 2009: The store still has a number of furniture items that were found in thrift stores, and interesting has a set of doors that were once used on a Stephen King movie set.
This is considered a "Reserve" location, and you can definitely order Clover-brewed Reserve Starbucks coffee. This is one of a tiny number of stores where occasionally the elusive and Starbucks Reserve Micro Blend No. 11 shows up on the scoop bar off and on.
While you can't redeem Starbucks rewards here, you can pay with your Starbucks card and earn stars. They can make you a Frappuccino here! (I believe they have a slightly different recipe than the core stores). Starbucks has occasionally used Roy Street for special events, like a live Sheryl Crow concert at Roy Street!
Enjoy some more photos! (The photos involving the Strawberry Shrub Cold Brew goes to TheModernBarista.com)
********
I've given you a lot of information about Roy Street. Quiz yourself. Can you pass the Roy Street test?
1.When did Roy Street open brand new?
May 17, 2008
April 1, 1971
November 18, 2009
July 19, 2010
2.Which of the following has NOT been a Roy Street special beverage offering?
Sweet Vodka Lemon Mocha
Acorn Squash Latte
Strawberry Shrub Cold Brew
Iced Japanese Macchiato
3.You can order a Frappuccino at Roy Street.
True
False
4.How many "Inspired by Starbucks" concept stores are there in the world right now?
Ten
Six
One
Four
5.Which country besides the United States has "Inspired by Starbucks" stores?
Japan
Canada
Australia
France
6.What is the current espresso machine at Roy Street?
Mastrena
Verismo
Synesso
Nuova Simonelli
7. Roy Street won't take your registered Starbucks card as a form of payment.
True
False
8. What's the name of rare and elusive Starbucks Reserve blend that shows up off and on at Roy Street?
Melody Blend No. 1
Bainbridge Island Blend
Beckenridge Blend
Micro Blend No. 11
9. What's the name of the special pour over machine found at Roy Street?
The Canibal
The Amazon Coffee Brewer
The Seraphim
The Seranade
10. Which famous singer has sung live at Roy Street?
Christina Aguilera
KD Lang
Paul McCartney
Sheryl Crow
Congratulations! You are now a Roy Street expert!
If you really do this quiz, do not post your answers in the comments, though I don't mind if you tell that you got them all correct! I expect that everyone who reads this should be able to get 10 out of 10!
Related posts