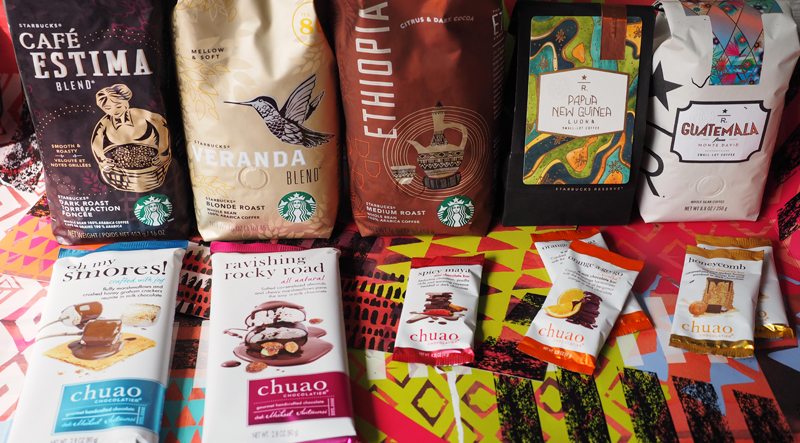 Coffee Pairings with Chuao Chocolates: For serious coffee masters!
Melody, April 15, 2016
3
7 min

read
Several weeks ago, I was contacted by Chuao Chocolatier. As you may know, you can find Chuao chocolates inside Starbucks stores. Chuao inquired if I wanted to sample some complimentary chocolates. Who in their right mind could say 'no' to that? So I received a lovely box of chocolates in the mail.
Once I got the chocolates, I couldn't just rip them open and eat them and say, 'oh that was delicious.' Oh no. I knew the right answer would be that I had to pair them with coffee. I went to my good friend, The Modern Barista (also known as Jocelyn), and solicited her help. She put an enormous amount of work into figuring out which chocolates paired beautifully with which Starbucks coffees.
I recreated some of the pairings myself, as of course I want to grow my coffee education and experience delicious chocolates with coffee. This is a natural combo! I had so much fun working on this! (Here I am at the 7th and Pike Starbucks, in downtown Seattle.)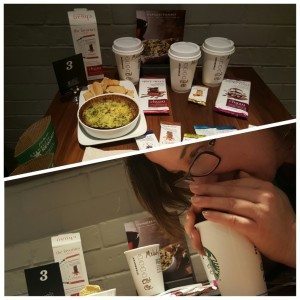 Jocelyn came up with multiple pairing ideas but one in particular stood out as phenomenal. And I mean at the level of coffee pairing where partners say things like: "I need a coffee tasting to wow my district manager." I'm talking about that level of an excellent pairing.
Chuao Spicy Maya bar with Starbucks core Ethiopia coffee.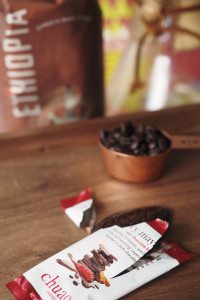 First off, notice that the Chuao Spicy Maya bar has this description: Seductive cinnamon, pasilla chile and warming cayenne bedded in dark chocolate.
Now take a look at the description of Starbucks Ethiopia coffee in the digital passport (anybody -both customers and partners – can use the digital version of the Starbucks coffee tasting passport): Soft and velvety with notes of dark chocolate, peppery spice and sweet citrus.
Wow. Just wow. This is one of the moments where you can genuinely taste how the chocolate bar brings to life the tasting notes of the Ethiopia coffee. The coffee seems to get even more velvety in the mouth and the peppery notes of Ethiopia absolutely pop.
I hope you try this!
Veranda Blend with Ravishing Rocky Road Chuao chocolate bar.
A second runner up pairing for me was Veranda Blend with Ravishing Rocky Road Chuao chocolate bar. Starbucks describes Veranda Blend as "Subtle with delicate nuances of soft cocoa with lightly toasted nuts."
The Ravishing Rocky Road Chuao chocolate bar is described as "Salted caramelized almonds and chewy marshmallows pave the way in milk chocolate."
This is a beautiful pairing. The nuts in the chocolate bar go perfectly with the nuttiness of the coffee. I recommend getting a nice bite of the chocolate with the marshmallow and trying this. The sweetness of the marshmallow enhanced the delicateness of the coffee!
Those were just two of The Modern Barista's chocolate and coffee pairings. I'm going to re-post her full article but I want you to go visit her site and bookmark it too!
By the way, the Fair Trade Cafe Estima coffee used in her pairings is available as an online coffee only.
Jocelyn paired the Chuao Honeycomb chocolate bar with Guatemala Finca Medina. I substituted the core Guatemala Antigua when I re-created this coffee tasting. This was definitely good though the core Guatemala doesn't have the same notes of honey that were present in the Reserve coffee. I still suggest you try it.
The Modern Barista – please bookmark Jocelyn's coffee journey website!
Here's her article: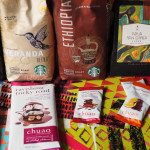 My friend Melody asked me if I could help her out with a coffee tasting with Chuao chocolates. Obviously, this was a no brainer.
I have been a huge fan of Chuao chocolates for a long time, and was absolutely delighted when we started selling them at Starbucks! I love their unique flavor combinations, and there are so many different kinds that could work well with our coffees. Since we started carrying these, I have been sampling them with our coffees at the register. So this was a fun project for me to take on!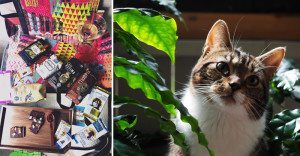 The first thing I had to do was to figure out what coffee & chocolates I was going to pair. I couldn't do all of them (not in one sitting at least!) and I knew I could not open the potato chip bar, because it is my weakness. If you haven't had this one yet, you should seriously try it. Of course my photo assistant and coffee master cat, Roscoe, watches me work in his "jungle". He loves getting sun with my coffee plants when it's sunny (which is rare in Seattle!).
I really wanted to do a mix of coffees. Some core, a reserve, a Roastery exclusive, and an online exclusive coffee. This is what I came up with:
Veranda blend with Ravishing Rocky Road
Cafe Estima with Oh my smores! (Cafe Estima is available on StarbucksStore.com)
Ethiopia with Spicy Maya mini bar
Starbucks reserve Guatemala finca Monte David with the honeycomb mini bar
Starbucks reserve Papua New Guinea Luoka with orange a go go mini bar (This coffee was available in the Roastery subscription)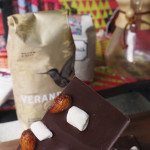 Starting with Veranda, I wanted to pair it with the Ravishing Rocky Road bar because of it's delicate notes of milk chocolate and nuts. The salted caramelized almonds really highlight the nuttiness of the Veranda blend, and the super sweet burst of marshmallows make it a perfectly smooth cup.
I also love the visual aspect of these chocolate bars. I love how the almonds and marshmallows are just scattered on top. This is exactly what I envisioned this chocolate bar to look like when I opened it!
I really appreciate all the little details and thought that goes into the design and packaging of these chocolates. When I opened up oh my s'mores, I smiled. 🙂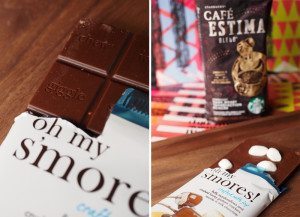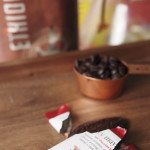 I went back and forth with which coffee to pair with this chocolate bar. I wanted to do Veranda, I wanted to do French roast, but ultimately I decided on Cafe Estima. Cafe Estima is no longer sold in Starbucks stores, but you can buy it online. This used to be a core coffee, and was our Fair Trade offering before Italian Roast. (and is still currently fair trade certified!) Cafe Estima is a blend of Latin American and East African coffees. This coffee is velvety smooth with a roasty sweetness that matches perfectly with the milk chocolate and honey graham crackers.
Moving on to the next pairing.. Ethiopia with the spicy maya mini bar. This was my favorite tasting! When I first got these chocolates, I was planning on pairing Ethiopia with the firecracker bar, but this chocolate changed my mind. Dark chocolate with cinnamon, pasilla chilies and cayenne. It is the perfect match to Ethiopia, highlighting the peppery notes and warm spices. I was sad I only had one mini bar, I could have easily devoured a full sized one!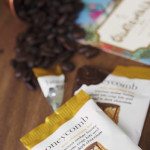 When I saw the honey bar, there was only one choice; Guatemala Finca Monte David. I because addicted to this coffee with the caramelized honey syrup (or just a packet of honey). It is so good, and having it with chocolate was even better! This bar has honey that has been caramelized into chunks and scattered throughout the chocolate. Absolutely delicious.
And last, but certainly not least… Papua New Guinea Luoka. This coffee was part of the Roastery subscription, but is also being offered at the scoop bar at the Roastery. I fell in love with this coffee, and picked up a couple extra bags to share. The Luoka is very bright, with notes of lemon, orange and cocoa.
*****
As I reminder, I have to let you know that I received free chocolates used in this article, however I loved the chocolates and the fact that they were free didn't affect my love of these chocolates or review/discussion of them.
Related posts