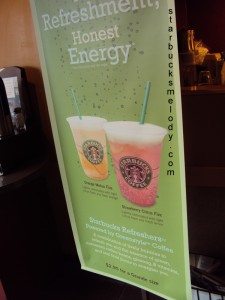 Some of my readers might remember that at the end of September, I wrote about Starbucks testing "Refreshers" beverages in San Diego, California.  These drinks use an extract of un-roasted coffee and produce a beverage that isn't quite like a juice, but isn't quite like a tea either.  They definitely do not taste like coffee.  In San Diego, Starbucks tested a "Cool Lime" flavor and a "Very Berry Hibiscus" flavor, both of which I previously blogged about here.
Starbucks is again testing "Refreshers" but this time there is a test in Washington State, and the flavors are now "Orange Melon Fizz" and "Strawberry Citrus Fizz" Refreshers.  The new Refreshers may be in the same family as beverages as their San Diego counterparts, but have been dramatically altered in recipe.  Both variations on Refreshers include some kind of extract of green, unroasted beans, providing the beverage with caffeine and pulling it into the "Refreshers" family of drinks.  The new Refreshers are described as having "ginseng" and "Vitamin B" and have a fizzy layer of foam on top.  The appearance looks a bit like a bubbly Italian Soda.  I tried both of the new drinks, and preferred the Orange Melon Fizz over the Strawberry Citrus.  Interestingly, the consistency of the two drinks is a little different from their San Diego counterparts.  The new Refreshers seem to be light weight and easy to drink yet both drinks had an intense tiny bit of syrupy flavor at the bottom.  It was like as if there is some heavy component which settles at the bottom.  The last one-eighth of the drink is intensely sweet and tastes a bit like lemonade to me.
Writing about test beverages (or test products) is one of my favorite things to do.  I am continually amazed by the many things that Starbucks does test, most of which never launches nationally.  If you want to read more about Starbucks tests, I've listed out some of my previous "test" blog posts (up to this point):
I realize that I am repeating myself but it is important: Starbucks tests all kinds of things which never launch.  Do not get your hopes up that you'll see this at your local store.  As I recall,  a little over one year ago there was news that Starbucks was testing 'blueberry waffles' for breakfast in Denver.  Unfortunately I never had any reason to fly to Denver to try this and was never able to put together any blog post on the blueberry waffles.  The fact of the test remains as yet one more example of Starbucks testing all kinds of food and beverage in many different geographies.  The new customize-able Frappuccino, which did eventually launch nationally this year, was in fact tested for a long time in Texas before the national launch.
What do you think of this latest test beverage?  The previous versions of the Refreshers (the San Diego versions – Lime and Berry) seemed to have a following.  Once in a while people come to MyStarbucksIdea.com asking for them to come back.  Here is an example of that kind of thread:
Looking forward to your refreshing comments!
Related posts