Starbucks has a lot of test items going on right now. I thought it would be fun to take a look at a few of these limited test items.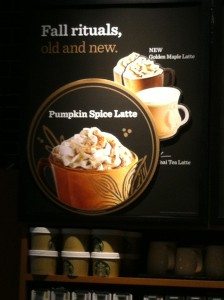 Golden Maple Latte – If you're in Orlando, Florida or Cleveland, Ohio, you might find the "Golden Maple Latte". Starbucks has offered Maple Lattes in years gone by, and frequently offers a seasonal Maple Latte in Canada. We'll have to see how this version of the Maple Latte does!
You can see that the Golden Maple Latte is on the upper right corner of the "daily offerings" board picture.
Dark Barrel Latte – It's been all over the news that Starbucks is testing a beverage that is a beer-inspired flavor. Sounds odd to me! I've heard this drink is available in Jacksonville, Florida.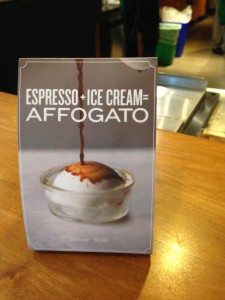 The Ice Cream plus Espresso test is currently only available at a tiny number of San Francisco Starbucks locations.
I would love to try this. I might have to take a quick trip to San Francisco soon!
Cane Sugar Cola test– I actually don't know much about this test, but I believe it's available in stores with Fizzio machines in Atlanta and Houston.
Last but not least, whenever I write about tests, I always have to give the caveat that Starbucks tests many more beverages and products than actually make it to a national launch. Don't hold your breath for any of these tests to come to your neighborhood store. For example, if you go back just a few years ago in time, the Starbucks Pink Lime Frozt actually went through multiple rounds of testing before Starbucks gave it the axe, never to be seen again. You can still make something that resembles a Pink Lime Frozt at Starbucks: Passion Tea, Creme Base, and Lime Refresher mix, all in a blender! No wonder it didn't make it. 😉
If I had to make wild guesses on what test has a future, I'd say that the Coconut Milk test has promise. But I've learn the hard way it's difficult to second guess Starbucks!
As always, do not re-use images without my express permission. A huge thank you to the many readers who send me emails with images and information!
And you know, one needs a little self-promotion to be successful, so I'll again suggest you read Tales of the Siren while enjoying your Golden Maple Latte!
Feel free to talk about in Starbucks test item in the comments!
Related posts