I thought I'd share news and updates from the mailbag and more …  All of this was interesting to me, and I thought my readers might enjoy it too:
1. A Starbucks experiments with different coffees as the espresso shot: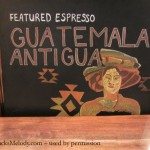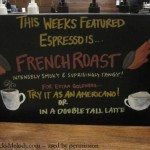 A Portland, Oregon reader wrote to me saying that his neighborhood Starbucks offers more than just "Espresso Roast" espresso as an espresso shot.  Apparently, that Starbucks has been authorized to fill one of its decaf hoppers with an alternate coffee offering, such as Guatemala Antigua or other coffee.  The store is testing out the popularity of alternate espresso options.
I think this is a great idea.  I'd love to try Espresso Roast Christmas Blend available as a shot in my beverage.  Also, Pike Place Roast is surprisingly good when pulled as an espresso shot.  The Starbucks store puts up chalkboard signs indicating their special espresso offerings.  I hope this catches on!
2. Check your rewards!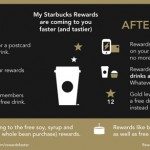 If you are part of MyStarbucksRewards, check to see how many free reward coupons you have!  They are valuable – remember you can use them on both food and drink.  You simply walk up to the register and say, "I'd like to use a free drink reward" and let the barista know the item that you're using it on.
I noticed that the number of free drink coupons awaiting me digitally seemed very high.  As it turns out, Starbucks did not want anyone to lose any beverage coupons in the transition.  All of September's rewards, as well as the rewards from October up to the 18th, were pre-loaded on to customers' cards.  Simply stated, this means that even if you already used a free drink coupon in September, you got that reward a second time digitally.
For many customers, the rewards available right now are higher than expected because of this back-loading of all September rewards as digital rewards.
Check your rewards and use them!  Remember, they will digitally expire in a month, so use them up!
Here's a MyStarbucksIdea.com idea thread exactly on this topic.
Thank you Starbucks!  That's a lot of extra free drinks!
3.  Digital touch screens in the Starbucks aisle of a Safeway: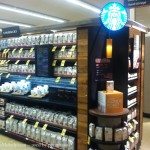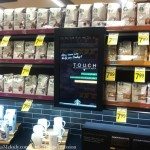 A reader in Highlands Ranch, Colorado emailed me to say that his neighborhood Safeway has digital touch screens in their Starbucks coffee area!  I thought that was pretty interesting.  I've never seen a grocery store with a Starbucks set up quite like this one.
I would love to know if other readers have something like this at their local grocery store.
////
Hope you enjoyed the news and updates.  Thank you to the many readers who reached out to me in emails.  Looking forward to your thoughts on any of these tidbits!
To the Starbucks enthusiasts in Chicago (Chicagonians?) reading this, Happy 25th Birthday Starbucks in Chicago!  On October 19, 1987, Starbucks opened their first store in Chicago.  And today is the grand opening of the first Starbucks in India!
Related posts