Fresh baked pastries at Starbucks: Yum.
Melody, September 15, 2012
20
2 min

read
I thought it would be fun revisit the fresh-baked Starbucks goodies at the Starbucks location in Seattle testing such deliciousness.  All I can say is yum.  I want this to expand to more stores.  This Starbucks location has a oven just for baking built in their area behind the bar, and a staging area where fresh cookies and other pastries cool off before going in the pastry case.  The chocolate chunk cookies, outrageous oatmeal cookies, mini vanilla scones, and butter croissants are all baked in the store.  In addition, the store offers palmier cookies too.
I wrote about the in-store baking when it was brand new, and six months later, it's still going on in full force.  This is another look at the delicious food in this store, with a better side by side comparison of the in-store baked goodies compared with the normal Starbucks food.
First off, here's the oven area and the staging area:  The fresh-baked pastries are placed on a larger counter-top for cooling:
It's funny, but it almost does not look like a Starbucks.  I'm not sure if you can see it, but the baking oven has a small Starbucks logo LCD display.
I've seen that counter-top full of cookies, but I must've walked in at lull in the action.  Also, here's the pastry case: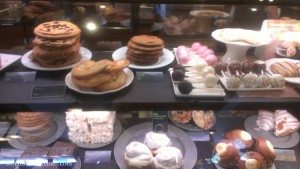 I bought one chocolate chunk cookie, one oatmeal cookie, and a butter croissant, and then headed about half a block to another nearby Starbucks, and bought one more of each, for a side by side comparison.  This is what was really interesting to me.  By the way, the oatmeal cookie (fresh-baked version) does not have raisins on it.  I really liked the fresh-baked oatmeal cookie.  I actually ended up eat two of them this afternoon!  When I was done taking all the photos, I handed the plates with all the goodies to the partners at the little nearby Starbucks without the food test.  (That was the store where I'd bought the non-fresh-baked goodies and taken the photos of the food on the plates.)  I explained that I'd bought the food to photograph, and not really to eat, and offered it to the partners, in case they wanted it.  The barista at the Mastrena gladly took the plates into the back office area, so that the partners could have them later.
This is the real test – take a look at this photo – can you spot the fresh baked oatmeal cookie, chocolate chunk cookie and butter croissant? Which is which? I await your guesses … 😉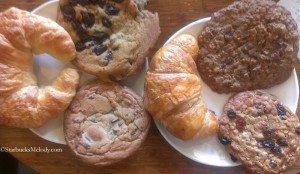 Last but not least, I wanted to at least post one photo of the  fresh-baked versions of the palmier cookie and mini vanilla bean scone: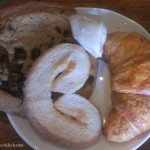 I hope I made everyone hungry!
Related posts