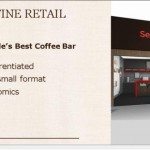 Today was the Starbucks Biennial Investor Conference in New York City.  Speakers included Howard Schultz, Cliff Burrows, Michelle Gass, Jeff Hansbury, and Troy Alstead.
This morning I tweeted a few quotes in my twitterfeed, but the whole conference was 6 hours long, so I only caught some excerpts here and there.
For those who missed some of the interesting tweets from this morning, here are some highlights:
*About one-third of the Starbucks stores in the United States are licensed.  About 70% of that business is represented by four license partners: Target, HMS Host, Safeway, and Kroger. (per Cliff Burrows)
*John Culver talked about the international business.  He noted that there are only 72 Starbucks in Eastern Canada and noted that there is room for growth there.
* Michelle Gass announced a new retail SBC bar design, flexible, and distinctive, with the first of the new SBC coffee bar design opening this Friday (December 3, 2010) in Toronto!  The image associated with this blog shows off the new SBC coffee bar design concept!  This is very exciting news.
* Michelle Gass talked about that SBC can end up in millions of vending machines nationwide.
* Michelle Gass talked about the good partnerships with Burger King and Subway.
* On the Starbucks Card … Annie YS talking about that the free card reward incentivizes "trial" … People try new drinks.  Starbucks has thought about ideas like "double stars from 3 to 5 pm" or "double stars when buying a pound of coffee or a French press." (Not perfectly verbatim but close).
*Currently @Starbucks is in 32 cities in China.  Goal:  By 2015 Starbucks plans to have 1,500 stores on mainland China.  (per John Culver)
*18% of Via buyers are new to the coffee category.  Via Ready Brew is bringing "younger buyers to the market" per Jeff Hansbury.
* "Iced Via will be introduced into the Consumer Product Group space this Spring" – So grocery stores get Iced Via Ready Brew Spring 2011. #Starbucks Jeff Hansbury
* Starbucks announced that "Acosta" will lead the retail distribution of @Starbucks products in CPG category starting 3-1-11 (per JeffHansbury)
* Per Troy Alstead's slide: Starbucks repurchased 11 million stock shares in fiscal 2010.
I only caught a small segment of this broadcast, and you can restream all 6 hours of it through the investor relations page at Starbucks.com.  I think that the restreaming becomes available tomorrow.
Anyone who was listening, please feel free to add your two cents. While I don't have much above, I genuinely thought that those were some interesting talking points.  Take a look at the SBC coffee bar of the future! What do you think? Would love to know your thoughts on anything from today's conference!
((Edit on December 4, 2010 – I added a screen shot of one of the slides from the conference.  This is the Frappuccino slide and notice that the twitter profile featured on it belongs to @Waaaldooooo!  I have been following her on twitter for a while and when I saw this I was happy to a twitter friend featured in a slide!  If you are not following Jessica (@Waaaldooooo) then please follow her now.  She is a passionate Starbucks partner.))
Related posts