Caramel Sauce/ Syrup at Starbucks: Most popular flavor ever?
Melody, December 8, 2012
20
2 min

read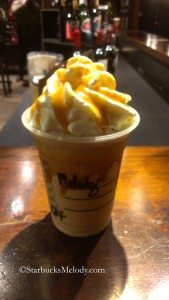 Tonight, as I was heading home from work, I dropped by the East Olive Way Starbucks to pick up some Christmas Blend.  I had some interesting conversations while I was there.  One partner mentioned to me that she started at Starbucks in 2007 – the year of the Dulce de Leche latte.  We managed to have an entire conversation around caramel.  We even discussed the correct pronunciation – it's "car-ah-mel" because there is an "a" between the "r" and the  "m."
The Olive Way barista recalled that the Dulce de Leche Latte had a caramel-ly flavor to it.  Over the history of Starbucks, there sure have been a lot of caramel-flavored beverages:  On April 3, 2007, Starbucks introduced the Dulce de Leche Frappuccino and latte.  The Frappuccino dates back to 1995, when Starbucks experimented with milk, ice, sweetener, and Italian Roast coffee, and a blender – from this, a "coffee Frappuccino" was born.  From what I remember, the Caramel Frappuccino has been on the menu-boards since the late 1990s.
More recently, on November 17, 2009, Starbucks introduced the Caramel Creme Brulee Latte which is a wintertime seasonal item.  The Salted Caramel Hot Chocolate is considered a fall beverage, and was first launched in September 2008, coinciding with the introduction of the Starbucks Signature Hot Chocolate.
People do love their caramel beverages.  You can get caramel Starbucks Fusions coffee, and caramel iced Via too.  The barista I was talking to tonight mentioned that many of her customers love to add sugar-free caramel syrup to their iced coffees.  And if Starbucks needs more ideas for more caramel-flavored beverages, one person at MyStarbucksIdea.com wants a Caramel Pecan Latte.  But in all seriousness, it seems like the caramel conversations are non-stop.  On Twitter, one of my followers recently direct-messaged me that his store in Wisconsin will be testing a "Caramel Flan Latte" in January 2013.  I'll probably write about that test beverage again, if and when I have more information.  (Keep in mind that Starbucks tests many things that never launch nationwide.)
I'm not a huge fan of drinking Frappuccinos, but I needed a picture to show off some caramel.  I asked the baristas to make me a drink with obvious caramel – and there you have it!
So it seems as though caramel is the king of syrup/sauce flavors.  Does any flavor out there trump caramel?
Related posts