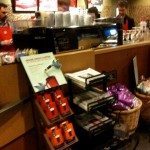 It's Monday November 29, 2010, and while I happily sat in a courtroom all day, one Starbucks in Seattle got something that no Starbucks (other than 1912 Pike Place) has seen in several years: A semi-manual espresso machine requiring baristas to hand tamp the espresso! As it turns out … what incredible luck … a dear friend of mine happened to go into her neighborhood Starbucks today, and immediately saw this shiny new Nuova Simonelli espresso machine.  She recognized it as something I would be interested in, and soon was sending me a couple of pics.
Here is the Nuova Simonelli website, for those interested.
What does this really mean for Starbucks? I have no idea.  All I know is that it is very cool.  Obviously, this is an extremely small and limited test.  I haven't had a chance to get to this store  in Seattle.  Might be the weekend before I have time.  If anyone else has seen this machine or knows about it, please pass on the scoop.  One fun thing about a machine where beans are hand-tamped, it means that beverage possibilities can be more creative.  One could possibly use more than just Starbucks Espresso Roast, and it is possible to pull a "cubano" shot too (the espresso is hand-tamped with sugar directly over the espresso).
When I saw the photos I received via email, I recognized the machine as being just like the one I have seen at 15th Avenue Coffee and Tea recently.  Looks like a great machine.
The floor is yours.  Please keep in mind that Starbucks tests a great many foods, beverages, ideas, products, and concepts that never launch nationally!
Edit on November 30, 2010:  Just  a few quick definitions relating to Starbucks equipment brand names:
Mastrena – This is a fully automatic espresso machine.  It pulls a high quality shot and is still being rolled out nationwide but most stores have one now.
Verismo – Also a fully automatic espresso machine found in some Starbucks stores.
Clover – This is a coffee brewer.  It is a special single cup brewer of coffee, producing a cup of coffee in a method like an upside down French press.
La Marzocco – This is a manual espresso machine.  At one time it was common at Starbucks, now you have to visit 1912 Pike Place Starbucks to see this historic machine in use at a Starbucks.
Nuova Simonelli – A manual espresso machine.  I've heard on twitter that this is the chosen brand of machines for barista competitions. ?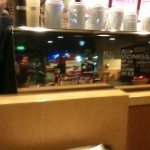 Related posts