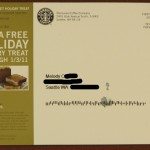 A few weeks ago, I received in the mail a coupon for a free holiday bakery treat.  Gingerbread loaf might be my pick. 😉  I think that is my favorite of the current line up of holiday bakery items.  It looks like the coupon is also good for a free Cranberry Bliss bar or a free Mint Brownie, assuming you are no fan of the Gingerbread Loaf.  The Cranberry Bliss bar has been offered by Starbucks (with some recipe variations) since about 1998 and Seattle urban legend is that the recipe was originally thought up by a former SSC partner (in the legal department) in the mid to late 1990s.  I can neither dispel nor confirm this rumor.
This is one more in a string of coupons that are mailed to selected Gold level participants of My Starbucks Rewards.  Unfortunately, I've since lost this little card.  I really don't know where I put it!  You can see it got rained on when I took it to be photographed by Molly of Seattle Custom Framing.
If you are reading this and wondering how you too can be a part of My Starbucks Rewards, then here is what you need to do:
Go get a Starbucks Gift Card
Load money on to it.  If you are in a store, you can load as little as $5 on to the card.
Register the card.  You'll find some numbers on the back of the card used to register the card at the Starbucks Card site.
Use your card to pay for your purchases.  If you find you like a different card, you can load many more than just one card to your account at the Starbucks Card site.
You earn "stars" every time your card is used to pay (swiped) at the register.
After earning 30 stars, you get to "gold" level which then may earn you these coupons if your activity is high enough.
You also earn free drink coupons at the "gold" level.
There are a variety of card benefits which you get for having a registered Starbucks card that you use to pay for your purchases.  I am not going to detail of all the benefits here, but some of the perks include free birthday drink, free basic syrups like classic, vanilla, or hazelnut, and any free tall beverage when you are purchasing one pound of beans.
Which treat are you going to indulge in? Did you get this coupon too?  Your thoughts are welcome, as always…
Related posts