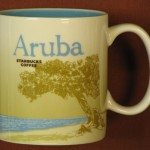 Warm weather. Vacation. Aruba. Beaches. Sunshine. Starbucks.  There are two Starbucks on the island of Aruba, and the one featured in this blog post (the second one) is located adjacent to Renaissance Mall in Aruba.  This "Renaissance Marina" Aruba Starbucks, has water taxi access to it!
A loyal reader of this site went on a cruise this past November.  Her boat left Florida, and traveled to a number of little islands including Aruba and much to her surprise, she discovered a Starbucks there.   The first opened in November 2009, in the "Renaissance Marketplace."  The "Renaissance Marina" Starbucks opened in 2010.  It is located in the lobby of the Renaissance Hotel very near the waterfront in Oranjestad (that's Dutch for "Orange City").  I tried to figure out exactly when this second one opened up, and I don't know for sure the answer.  The best I can estimate is that this second Starbucks first opened its doors in the Summer of 2010, perhaps July or August.  If anyone has better information, please let me know.
My apologies that the photos are a little blurry, but nonetheless, I thought it would be great fun to show off this store, and the Aruba Starbucks mug given to me by the reader who submitted these photos to me!
Related posts