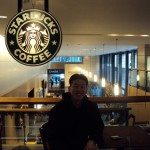 The largest Starbucks in North America is located in the Chase Building, in downtown Seattle, so I have been told.  It doesn't seem like it is the largest to me square footage-wise, and I'm even a little suspicious of this fact, but a barista there firmly tells me it is.
When I started today (December 22, 2010), I was not intending to write a blog post from it, but I had a blast of a day, and decided that it was blog material.  Since my intent was only to have a good time hanging out with Noboru Sakamoto, I am lacking in photos for the blog post.  Noboru is perhaps the most enthusiastic Starbucks customer there is, and Melissa Allison (a Seattle Times reporter) wrote an article about him:
Noboru Sakamoto vacations in Seattle
So here is the diary of my Starbucks day today – I want to make it clear that this post really is simply the diary of day, and simply told to you as such.  My apologies that it is a little long.  Feel free to skip around to the section of the day that interests you.
Wednesday, December 22, 2010:
15th Avenue Coffee and Tea:
In the morning, I met up with Noboro Sakamoto at 15th Avenue Coffee and Tea, which is still one my very favorite stores.  I would go there more often if I could, but I neither work nor live in that neighborhood.  Three wonderful partners were working.
I took the day off from work because I knew I wanted to spend it hanging out with Noboru, and so the agenda for the day was 99% constructed by things that he wanted to do.
I arrived early at 15th Avenue Coffee and Tea and had a tall Casi Cielo and a Mushroom Stromboli for breakfast.  Noboru and I chatted over breakfast.  Major Cohen came in and said hello, and Barista Amanda prepared the coffee cupping for the day.  I was  a little disappointed that we left shortly before the coffee cupping started, but we had a full day of plans.  I respect Amanda's coffee knowledge, and I know I have a lot more to learn from her.  I really don't have photos from 15th Avenue Coffee and Tea because I didn't start the day intending to make a blog post of it.
The Starbucks HQ – The Starbucks Support Center: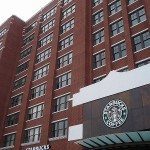 From 15th Avenue Coffee and Tea we drove to the Starbucks Support Center, which is the headquarters at 2401 Utah Avenue South, in the "SODO" neighborhood of Seattle.  There wasn't a clear plan for the SSC visit, but it is a visit to the mother-ship so we _had_ to go there.  My thought was that we should take a picture with a real partner who is "someone famous" (extremely loosely defined) to document our trip there and then we'd be on our journey for the rest of the day.  I sent out a tweet to alert corporate partners that we were coming in hopes of getting a photo with at least one well-known corporate person.  I also sent one email too.  I had no success getting anyone to come to the reception of the Starbucks headquarters for a single photo.  One corporate partner very politely and quickly twittered back that he was out of town (Portland), and two other partners replied back with a "no".  One partner saw the tweet hours too late, and politely tweeted that he was in Kona for a vacation, and so not available.  Several people did not reply.
Noboru and I sat in the lobby of the reception area of the Starbucks headquarters, planning the rest of the day.  I would say we sat there for maybe ten to fifteen minutes, deciding that we would visit the bridge in Seattle that the Caffè Verona coffee stamp is based on.  As we sat planning away, a partner whom I recognized got off the elevators.
Before I go any further, I should explain a little more about having a photo taken with a partner.  Noboru has an incredible collection of photographs of himself with Starbucks partners.  I've looked through many of them and he has stood next to an amazingly large number of store partners, a few District Managers, and even an Regional Director, and had his picture taken.  A photo to memorialize that we were there made perfect sense to me.  That indeed is what Noboru collects (photos of partners with him), and I admit, I kind of enjoy standing next to corporate partners too.  I'm a little in awe of Noboru's photo collection and I can look through the pages over and over again and not be bored.
So I called out to the partner getting off the elevator (I'll just call him "B"), who has met me before, and he smiled genuinely, greeted me by name and gladly accommodated us in our request for a picture with all three of us in it.  So Noboru, "B", and I stood in front of the Siren in the lobby of the headquarters, and we got our "famous person" photo.  The photo is actually on Noboru's camera and I do have a copy of it.  I apologize that I am not sharing it here, but it would seem patently wrong to do so.  One can see that no SSC partner wants to come off the elevator, lunch in his hands, take a pic, and then unsuspectingly find his face all over StarbucksMelody.com.  That would not be respectful to "B".  But I do owe him a big round of "thanks".  Because of him, we quickly got to "Mission Accomplished" at the SSC and moved on to the next phase of the journey.
As an aside, I feel mildly disappointed that we had such poor luck coaxing any corporate partner out of his or her cube/office.  Starbucks prides itself on "customer connections" and no doubt Noboru Sakamoto and I are some kind of brand advocates.  However, I absolutely recognize that what we did was drop in with almost no notice whatsoever, and just a few days before the holidays.  Perhaps under different circumstances this would have been a better experience.  The receptionists at the headquarters, by the way, seemed to have no idea who we were.  That's fine by me.  One of the two receptionists asked for my name and confirmed, "Oh, is that Melody with an 'ie' or with a 'y'?"  "It's Melody, like a song," I replied.
(Photo of the exterior of the Starbucks Support Center courtesy of Noboru Sakamoto.)
The Verona Bridge: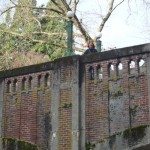 From the Starbucks headquarters, Noboru and I decided to find the "Verona Bridge" which is an actual bridge in Seattle that the Verona coffee stamp picture is based on.  There were a few wrong turns on the way, but we did indeed find the Verona Bridge (not its official name by the way) located on Lake Washington Boulevard, and near the north end of that street.  Noboru took a couple of pictures with me standing on the bridge at about where the figures on the coffee stamp are painted in.  It's a beautiful old bridge with a canopy of trees on both sides of it from the Arboretum in Seattle.  This bridge really does work perfectly as a model for a romantic bridge scene.  Obviously the artist who created the Caffè Verona coffee stamp drew in some nice classic buildings to put next to the bridge because in real life you would be just looking at a lot of trees.
I have a previous blog post on Caffè  Verona, and I highly recommend going back and reading it.  You can see the Verona coffee stamp too in the previous blog post:
Amazingly, as incredibly dumb as it sounds, I hadn't yet thought that I would be writing a blog post from today so I didn't take photos of the bridge.  (I took a couple on my phone, but very poor quality).  The copyright holder for the Verona Bridge photos used here is Noboru Sakamoto, and photos used with permission.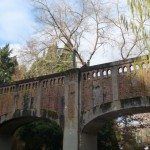 Madison Park Starbucks: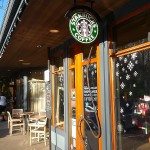 From Lake Washington Boulevard we drove south heading towards Madison Street.  The plan was loosely to take Madison back into downtown, but we were truly improvising the day, and Noboru wanted to see more Starbucks.  From the intersection of Madison and Lake Washington Boulevard, the "Madison Park" Starbucks is really quite close.  We spontaneously dropped by.  By now I think it was roughly 2:00 or 2:30 in the afternoon.  I'm not sure of the time.  I ordered a Chocolate Vivanno, and the two of us camped out for a bit, taking a break in our journey.
I don't have a single photo from this visit.  I have to apologize.  I still (stupidly) wasn't really thinking that I would write a blog post, and my only goal for the day was to hang out with Noboru doing Starbucks things.  It's a spacious store with friendly partners.  Maybe someday I will get back there and write a long article on it, but today we used the internet, I had a delicious smoothie, and rested a moment before the next phase of the adventure.  In fact, there is not much for me to say about this Starbucks trip.  I didn't know a single partner there either, nor did anyone appear to know me.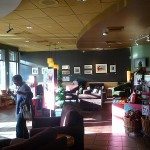 (Madison Park Starbucks photos are courtesy of Noboru Sakamoto)
Chase Center Starbucks: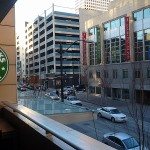 Noboru selected our next stop for the journey and picked the Starbucks located at 1301 Second Avenue, Suite 200, Seattle, WA 98101 ((206) 264-0289).  This wasn't a random selection for a store visit, but rather Noboru knew that a recent "Pumpkin Spice Latte commercial" had been filmed there, and so he wanted to visit it.  I have been to this store before because it is walking distance to everything downtown, however one must understand that there are many downtown Seattle Starbucks.  I actually only rarely visit this store because it's not quite close enough to work and shopping, and there are a million and one other downtown Seattle Starbucks.  Also this is a Monday through Friday store.
We walked in and found the store fairly slow. Most of the time there were three partners working.  I was immediately greeted by name by the register barista (a tall gentleman with a name that I cannot pronounce that begins with a "p") who recognized me from another downtown Starbucks.
A partner in the store stated that this store is the "largest Starbucks in North America."  I am almost a little surprised at that, but I suppose it could be true.  The store is t-shaped, and on the second level of an office building.  It was designed to accommodate the professionals in the building, and it even has a meeting room which can be reserved by building occupants.  The store has a few nooks and crannies, because there is a tiny seating area, which is in fact part of the store but looks like a sunken alcove near the stairs to the main part of the store.  The store has a small outside seating area also.
One store partner remembered well that the Pumpkin Spice Latte commercial had been filmed there.  She said that a film crew came in after the store was closed, moved the condiment stations around, and filmed until early in the morning.
If you want to watch the Pumpkin Spice Latte commercial, visit this link here (which will lead you to YouTube):
Pumpkin Spice Latte commercial
We stayed quite a while, and I ordered a Caramel Brulee Latte.  As we visited, I finally realized I needed to write a blog post from my adventure today.  I had my camera in my purse, and I whipped it out and began photographing the store from head to toe.
Something interesting happened as I was taking photos in the lobby:  A store partner ("Christina" I think, but not sure) walked up to me and in the most polite way possible asked me about taking pictures in the store.  I have to applaud her because I can't think how anyone could have been more gracious and polite about it.  She approached me, and said (not verbatim), "Melody, what do other stores do about you taking pics in the store, because I always thought you couldn't do that?"  I've never met Christina before today.
I was a little stunned.  If I had been in her shoes, there is no way I would have had the customer service skills to be as gracious as her.  I replied that non-professional photography was fine in the stores, and that I have often taken pictures featuring stores.  I invited her to read my blog post on the topic, if she has the time:
Clearing up confusion: The Starbucks photography policy
After only a brief conversation, she seemed to truly just accept what I was saying, and invited me to continue taking photos in the store.  I have to again state how amazing this conversation was.  It is human nature to want to be "right" in your position, or to want to get defensive, or to assume that there is no possible way a customer could have better information than a partner.  No, this partner genuinely listened with open ears, and welcomed me to take photos after I explained that I had checked with the SSC.  And by the way, the real test of customer service skills is not how you handle regulars who are never unhappy, but rather how you handle customers you've never met before and you wonder if you need to clarify/educate on a policy or a guideline.  Promote this person.  She embodies what Starbucks is supposed to be.
Just a few more facts about the store:  I already mentioned that there is a meeting room with a conference table.  I love the design of the bar area because there is bar seating so that you can hang out and talk to the barista on the bar.  The store has an abundance of comfy seats.  I actually hope this store is never remodeled because the fixtures and seating are incredibly elegant.  Along the stairwell up to the store, there is another nook of seating with three tables, and I mentioned already the sunken nook along the stairwell too.  I didn't get photos of all the seating.  There is yet another little nook on the far East side of the store with a wall made of mirrors.  I tried to take photos of that but the mirrors drove me crazy.  The store has an LCD screen to show "now playing" for music.  I love being able to see what is playing, and wish that Starbucks would install more of those music screens, but it seems to be an abandoned experiment, as new stores don't have this LCD screen, and a few stores are losing them when they get major remodels.  The community board in this store hangs above the bar seating near the Mastrena.
This really is a well thought out store, and another A+ for customer service.  I already have a bias though that downtown Seattle is the flagship market for Starbucks.  I apologize that my bias comes through so blatantly.  I know that there are great Starbucks everywhere, and I've written about great Starbucks in Orange, California, and Eureka, California, but I still have a Seattle bias. Sorry!
This is a painfully long blog entry touching on everything from Verona, to the SSC, to the photo policy, to customer service, just to name a few ideas in this book-length blog post.  Feel free to discuss away in the comments…Hope you enjoyed the one day Starbucks adventure with Melody and Noboru.
Last but not least, if you are looking for more Seattle Starbucks vacation ideas, click on this old blog post:
Top 10 Coffee Vacation Ideas in Seattle
[[EDIT:  Major edit on December 27, 2010:  I like how my readers will correct me if I get any fact wrong.  I'm serious about that.  I have to assume that at least once upon a time this store was the largest Starbucks in North America, but it is not today.  A loyal reader of the blog tells me that the largest Starbucks is in San Antonio, Texas and is over 5,900 square feet.  The San Antonio Starbucks opened in 2005 on San Antonio's "Riverwalk" and began as a Hear Music concept store.
As an aside, I wish I had some photos to put together an article about Hear Music.  I definitely remember visiting the Bellevue Hear Music store in about the 2005 time frame, and even my local neighborhood Seattle store had a CD burner machine in it.  I was always surprised about it, and I really wish I had some photos of that era.  All of the Hear Music concept stores have been converted back to normal Starbucks now.]]
Related posts