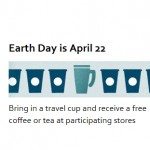 In honor of Earth Day this year, Starbucks is offering customers free brewed coffee or free tea  if you bring your own re-usable cup, tumbler, or mug for your drink.  Using personal cups is an important part of being "green."  Reduce is the first of the three Rs.  (Reduce, Reuse, Recycle).  If you bring your own cup, mug, or tumbler into Starbucks, you are reducing your consumption – you're not using a a paper cup!  So please re-use your own personal tumbler!
The only notice of this event (that I found) was on this link here:
http://www.starbucks.com/responsibility/community/community-service
I owe a big thank you to Hayley, a regular reader of this blog, who noticed the blurb on the Starbucks community site and pointed it out to me.
In the past Starbucks, traditionally has done something special for Earth Day, so this event is absolutely in keeping with Starbucks strong interest in corporate social responsibility.  As I recall, in the past, this free coffee event has been in both the United States and Canada (and it might possibly be world-wide), and it is free coffee or tea for people with their own cup.  There are no free espresso-bar beverages, and no free blender beverages (as I recall).  I remember last year seeing tons of people at my local store with their re-usable cold cup getting iced tea too.   I might dust off my cold tumbler too and bring it in.  I might have a cup in each hand! (j/k).
I'm looking forward to free coffee!  I drink plenty of brewed coffee, so this kind of event tickles me pink.  Though more importantly, I hope this free coffee event will encourage some people to regularly bring in their own cup to Starbucks.  We need to do this for our planet!
I'm including a few links of related material and content, and hope you'll check them out too:
Shared Planet update on re-usable cups – April 2010 StarbucksMelody blog post on the percentage of customers using a re-usable cup.
Five Awesome Baristas – This is so genuine! A Starbucks partner in Canada (now a former partner) talking about C.A.F.E. practices.
Shared Planet – An introduction – This is my short, easy to read, introduction on CAFE practices is.
Starbucks is committed to being responsible and so they use the term "Shared Planet" to describe the many programs, donations, good deeds, and things they do to improve our planet.  This includes things like how coffee is sourced, the volunteer hours that partners give to their communities, and the fact that there is always a cup discount when you bring your own personal, cup, mug, or tumbler into Starbucks.
While April 22, 2011, might be free coffee day, you can get ten cents off your drink every single time, every day of the week, when you bring in your own cup, mug, or tumbler for your drink.
[[Edit on April 17, 2011 – The official Starbucks blogs now have an announcement about Earth Day.  On Earth Day, you will get 20% off of your purchase of travel tumbler when you visit Starbucks:
Starbucks blogs announcement – Earth Day April 22, 2011]]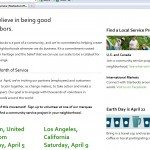 Last but not least, this little YouTube video was produced by Starbucks in 2009, and I still think it's cute and fun to watch, and it fits right in with the theme of this blog post: Please bring your own cup to Starbucks!  Please click and watch – It's less than one minute long:
Starbucks video – Bring in a tumbler 365 days a year, save ten cents a day and 365 paper cups.
Hope you enjoyed your friendly free coffee announcement!  Who here is going to join in?
Related posts