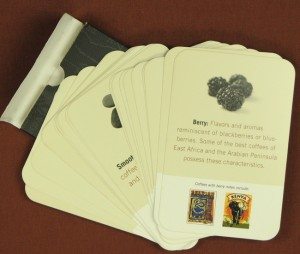 Call these Starbucks flashcards your beginning coffee education, if you will.  This deck of cards was produced in 2004 as part of coffee education tools for new partners wanting to describe words like "clean" and "citrusy" as they relate to Starbucks coffees.  I actually have 3 separate pieces that date from this 2004 era of coffee education, and they all appear to tie together.  This is a great starting place:  these are the words of coffee.
The flashcards are self explanatory.  On one side is a word, such as "full-bodied," and on the other side of the card is a definition, as well as two example coffees which fit this description.  I really love everything about these flashcards.  The words have clear descriptions, and I love the old coffee stamp images on each of the cards.  There are a total of twenty flashcards in the box, and below are pictures of just a few of the cards.
I received this deck of cards as a gift from a partner who happened to be cleaning out a desk, and found these buried in a back office.  She explained to me that it wasn't likely she was going to be using them again:  The whole bean coffee offerings have changed dramatically since 2004, and these are now out of date coffee education materials.  As I mentioned, this was one of three pieces that tied together, though it might be a while before I post all three coffee education pieces.
Thank you to Molly at Seattle Custom Framing for taking the pictures in this blog post.
By the way, since we are on the topic of coffee education, I thought I would mention a YouTube channel that I enjoy:  Five Awesome Baristas.  That channel is a series of video produced by five Starbucks partners on a variety of topics.  Not every video produced involves coffee education, but there are a ton of fun and very genuine videos all about coffee passion.
Enjoy the cards! What do you think?  This is an open thread: feel free to talk about anything related to Starbucks!
Related posts