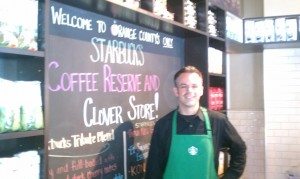 Announcing the first Starbucks in Orange County, California to receive a Clover brewer, and it's in Irvine! Located on the corner of Culver Boulevard and Irvine Boulevard, this beautiful, newly-remodeled Starbucks, has the Clover and a full line of Reserve coffee offerings.  (The Reserve coffee offerings are limited, smaller batch coffees produced by Starbucks.)  The Clover coffee brewer, for those who do not know, is a state of the art single cup coffee brewer that creates a perfect single cup of coffee with a flavor profile somewhat like a French press.  It works like an upside down automatic French press, and has brew settings that can be customized to suit the particular coffee desired.  No other single cup system (or instant coffee) can match the body, full flavor, and perfection created by the Clover coffee brewer.   Unfortunately, the Clover brewer is an extremely expensive piece of equipment, and the cost of a cup of coffee from it is higher than just buying a brewed cup of coffee.  Starbucks has been slowly and judiciously launching the Clover into Starbucks stores with a customer base that will support it.  As I write this, there are roughly about 140 Starbucks stores in the corporation that have a Clover brewer.
My understanding is that this Starbucks has had its Clover about two months.  I hear this store is the hot spot Starbucks of Orange County.  I didn't come to California to visit this store, but I heard about it from a partner in Laguna Hills, and realized that it wasn't too far from my mom's house and so it would be easy to squeeze in a visit.  The store is absolutely beautiful and styled in the "heritage" style, with lots of reclaimed wood, and repurposed materials.
I decided to drop by this Starbucks on the afternoon of the 25th.  Here's the address:
Starbucks store #5741
Corner of Culver Blvd. and Irvine Blvd.
3997 Irvine Blvd.
Irvine, California 92620
(714) 734 – 9757
The store manager, David Wilmot, was working when I dropped by.  Thankfully, he welcomed me completely into his store, and even offered to sample a new coffee with me on the Clover, if there was one that I hadn't yet tried.  He welcomed me to take photos and show off his beautiful store.  (He seemed to be completly aware of the 2009 revised Starbucks photo policy, which allows photographs to be taken in the stores, if for non-professional, non-monetized uses.)  I had a delightful time talking with David who truly is part of a Starbucks family.  He told me this adorable story how he married a shift supervisor at Starbucks, and now has lots of cute pictures of his daughters visiting Starbucks.
It was a fairly warm day in Orange County, reaching into the low 60s, so I ordered an iced Kenya from the Clover and paired it with the petite lemon square.  While I was there, one of the store's regulars came by and definitely wanted to rave about how much she liked the store.  (I think she said her name was Trish.)
The strangest thing happened while I was there.  I couldn't make this up if I tried.  On the flight down to Orange County, I sat near a man who I ultimately learned is David C. in store design at the Starbucks corporate headquarters.  Some of you might remember that on the 24th, shortly after the annual Starbucks meeting, I caught a plane from Sea – Tac Airport to Orange County.  David and I chatted only briefly, and of course I told him all about the blog.  That was about it.
Oddly, 24 hours later, on the 25th, I ran into him at this Starbucks in Irvine.  It was the strangest thing to walk in and think, 'hey there's that SSC guy from the plane trip down here.'  He remembered me as well and appeared to be equally in shock to run into me in a Starbucks in Orange County.  There are plenty of Starbucks in Southern California!  We made small talk, and chatted about the Clover, and then he had to leave after just a short while.  He introduced me to another person on the store design team, whose name I  cannot remember unfortunately.
There are lots of beautiful Starbucks all over Orange County, and I wasn't even originally planning on going to this store, and so I am still stunned at this coincidence.  It reminds me again that somehow Starbucks seems like a very small world.
I didn't really plan a store review so I took just a few photos with my phone, but I got enough that I can show them off here.  I stayed long enough to wait for a few of the seating areas to clear out, so I could show off this beautiful store.  Unfortunately, a few of the photos are blurry.  Sorry.
Enjoy!
(I will eventually go back and fix typos.  Sorry.  I wrote this blog post sitting at Orange County airport because my Alaska Airlines flight was delayed significantly.  Where is Howard's jet when I need it? j/k! LOL)
Related posts