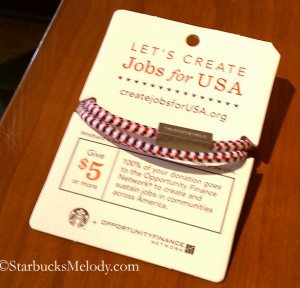 Starbucks has partnered with the Opportunity Finance Network and is launching the Create Jobs for USA program today.  The program is designed to spur jobs all over the U.S. with loans to small businesses.  It all starts with you donating $5 at the register, and you get a red, white, and blue Made-In-The-USA wristband.  The donation money goes to the Opportunity Finance Network which is a network of Community Development Financial Institutions – private financial institutions that are 100% dedicated to delivering responsible, affordable lending to help low-income, low-wealth, and other disadvantaged people.
On the Opportunity Finance Network website, there is a link for a slide show with examples of the kinds of projects that get financing through this program.  With unemployment just under 10%, I want to do anything to create jobs!  This is worth a try.  We all know people who are out of work.  I have my wristband already! 🙂
I found a blog that gives a lot more detail about the origins of this program, and the partnership and how it creates jobs, and rather than repeat all that information here, I recommend that you give it a read:
Starbucks: We Are Indivisible by Marc Gunther
On a totally new topic, I can't write a blog post for November 1st and not mention that today is the day that Thanksgiving Blend launches.  It's amazing what a wonderful thing it is.  Blend Guatemala Antigua and Sumatra, and roast them together in a coffee roaster and you create perfection!  (Be sure to order your tall beverage which will be free if you are paying with a registered card that is at the "green" level or higher.)
So what do you think?  It will be interesting to see if the bracelets really sell.  I think they will.  How are they selling at your store?  Well, hopefully they'll sell a little better than Onward, which took a while to sell all those in-store copies.  Please excuse the snarky comment!  Well, I think most people who bought copies of Onward did so through retailers like Amazon.com, or Barnes & Noble, or  purchased Onward to attend promotional Onward Book Tour events which required the purchase of the book, and not actually in the stores.  You can buy the wristband online too.
Related posts