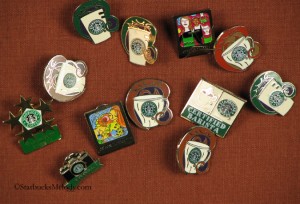 I just want to say thanks to two people who have recently sent me some things.  @Darkkatpouncing sent me a scarf with Starbucks pins on it.  It is a beautiful hand-knit scarf in seed stitch and I love the color!  And since I knit too, I really appreciate the work that goes into this kind of thing.  Meanwhile, a former partner ("Doug") sent me a box of things that he had cherished when he was a partner – Thank you so much Doug!  In it was a collection of pins for his apron that he had collected over the years.  This blog post is just a very short big thank you, and a chance to look at the flair that is sometimes seen on barista aprons.
By the way, it has been almost two full years since I've written about the pins that go on partner aprons.  My last blog post on this topic was here.  (It feels weird looking back at two year old blog posts.  I was still getting the hang of writing the blog!)
Thank you to Molly at Seattle Custom Framing for taking the photos used in this article.  Sorry it's a short little article!
Related posts