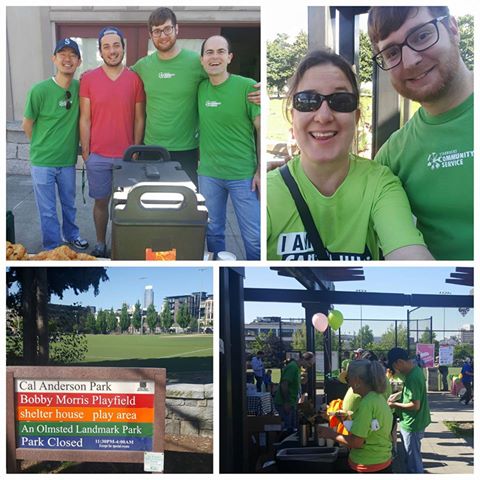 Starbucks ties you to community: Clean Sweep on Capitol Hill.
Melody, June 6, 2016
1
5 min

read
Today (June 5, 2016) I volunteered to help pick up litter in the Capitol Hill neighborhood. I believe strongly in the philosophy that "Many hands make light work!"
I heard about the event through Ben Jones, the store manager of the East Olive Way Starbucks. As it turns out, Starbucks was donating coffee, cold bottled waters, and pastries in the morning for the registration part of the event.
Of course, there are many ways to find volunteer opportunities. One thing you could do is browse the Starbucks Community Service website. You do not have to be a partner (an employee of Starbucks) to sign up for a community service event. Here's the link:
Starbucks Community Service website
I picked this event because it's pretty much my neighborhood (technically, I live in adjacent neighborhood, First Hill) and I want to help keep my city clean! The community service website is very mobile friendly. You can even filter events by distance from a zip code, or other filters. When you "join" you do need to be logged into the website. If you're not a partner, just login using the same login that you would for your Starbucks phone app.
The event meet up was at Cal Anderson Park up the hill to Cal Anderson Park. (It's not really a far walk). It was a gorgeous day out. Look how perfectly blue the skies are in the attached pics. We Seattleites think this is a rare sight.
As soon as I got to the park, I caught up with four Starbucks partners, all of whom I've known for a while. From left to right: Kevin, Jordon, Ben, and Greg. They were manning the coffee and pastry table.
The Roastery donated the coffee so volunteers could enjoy Reserve Malawi coffee, or Decaf Costa Rica Bella Vista.
The cold Ethos bottled water was a welcome sight. Today had record breaking high temperatures. It was 92 today in Seattle.
It is actually quite a bit unusual to see Starbucks offer a Reserve coffee for a community service event with a few hundred participants.
All together, there were about nine or ten Starbucks partners who were there helping out and picked up litter too.
When we checked in at the registration table, we got a t-shirt and assigned to a group. I was in group "27."
Before I go any further, I should tell you a little more about "Clean Sweep."
This is actually considered the first PRIDE event of PRIDE month,  June. The idea is to clean up the Capitol Hill neighborhood (where the majority of PRIDE events happen) to have a clean and beautiful start to PRIDE month.
Seattle Pride is the organizer of Clean Sweep. Businesses have a visible part of it too: they donate time, money and resources. As mentioned already, Starbucks kicked off the event with morning coffee and pastries. During the assembly of groups, the announcer announced that T-Mobile and Delta Airlines had groups picking up litter too.
Group "27" consisted of four adults and 7 youth. The 4 adults were me, Robert and Laura associated with the kids, and Michael Braccio, a chiropractor with an office on Capitol Hill. Michael, like myself, wanted to come out and support his community. Robert Daniel had invited the middle-school age kids to do this community service. This was a "field trip"! Field trips have really changed since I was kid!
Robert Daniel explained that he works for Communities In Schools, which is a national non-profit organization dedicated to drop-out prevention. He works in the Federal Way School District where he and his colleagues have been working on is getting Gay Straight Alliance groups running in schools, to help provide a safer climate for some of the most vulnerable students and to encourage them to be personally empowered and have opportunities to practice student leadership. Students from a GSA groups at two middle schools came out and volunteered with Clean Sweep. Robert told me, " I told the two groups about the Clean Sweep event, and they were excited to be able to engage in this kind of community service. We had six 8th graders and one 6th grader out there serving with us who have all been engaged with their school's GSA group in the past year. These students have been dedicated to building a stronger community in their their own schools, so it was very rewarding to see them go out and work to improve a larger community."
Here's my volunteer group: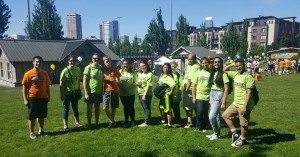 My group really went to work! We were assigned to clean up the 2 blocks just east of the Roastery, between Pike and Pine, and Melrose and Bellevue. (If you don't know Seattle, I realize that doesn't mean a lot, but suffice it to say, we were assigned to two blocks of Capitol Hill, and our 2 blocks were at the Western edge of Capitol Hill, not far from where it merges with downtown and First Hill). We had a healthy walk in the hot sun!
Some of the areas where we worked had very noticeable before and after appearances. We picked up a bazillion cigarette butts! Take a look at these before and after photos. Hopefully you can see what I mean: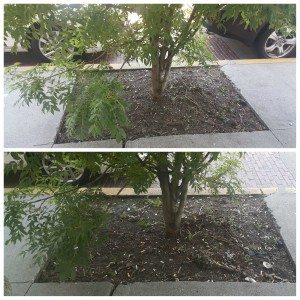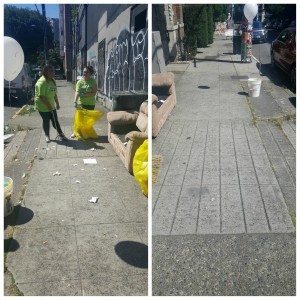 Here's my group:
I hope you get the chance to find a fun community service project near you!
Related posts