Downtown Olympia, WA Starbucks – Featured Clover store.
Melody, November 3, 2011
22
4 min

read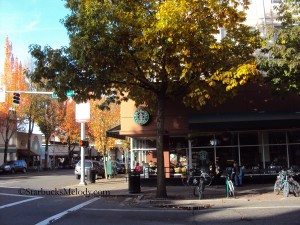 In a small Starbucks store, tucked away between Legion Way and Capitol Way South, there is a Clover brewer in Olympia, Washington.  As many readers know, I am on a quest to visit as many Clover Starbucks as possible, so I decided to take a quick drive down to Olympia.  It's only a little over an hour (or a little longer in traffic) from Seattle.  I dropped by on October 29, 2011, at about 2:00 p.m., and I was greeted by three partners on the floor: Ben, Patrick, and Andrew.  With only a short conversation about photos being allowed in the store, and the 2009 updates to the photo policy, I was invited to continue taking pictures.
This store is actually one of the smallest Clover locations that I've ever been too.  It is shaped like an "L," and I primarily took pictures of the longer side of the store.  The shorter side of the store was continuously full of customers, and so I opted not to take pictures of that side of the store.
One thing I have to say is that even though there are just under 200,000 partners, at times it feels like a very small company.  Out of 200,000 partners, I probably know fewer than 1,000 people, but it is a small world.  The partner Andrew, who mostly was floating and doing a lobby slide while I was in the store, was indeed the same partner who made my Clover coffee for me when I visited the Bellingham Clover Starbucks.  I definitely recognized him, and he said that he had just recently transferred from Bellingham to Olympia.  (Although I recognized him, I definitely didn't remember his name. I am terrible about putting a name with a face.)
While the store is very small, it is big on personality.  The side of the store along Legion Way has a lovely view of a city park, and in the background one can see a very early 20th century structure, which at one time was Washington State's Capitol Building.
Here's the view out that window:
By the way, I walked past the old Capitol Building on my way to the Starbucks and took this photo of it, for a closer look at it: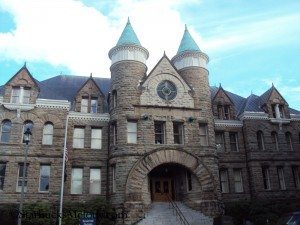 I talked for a bit with Patrick, who I learned is a five-year partner, and a fan of the current Reserve offering, Guatemala de Flor coffee.  He's been at this store a while, and he sent me a gorgeous photo from his phone:  downtown Olympia covered in snow, as seen from his store: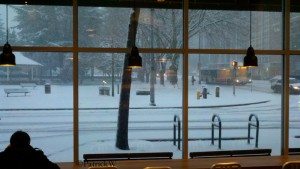 Here's the view out the store looking towards Capitol Way: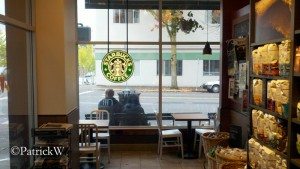 Stores that receive their major 10-year remodel usually end up with new light fixtures as part of the remodel.  This store has my favorite of the newer style of lights.  You may recognize this from the Starbucks at First and Pike, in downtown Seattle.  These unique lights have ended up in a number of stores, including even Neuss, Germany.  The lights say "fresh roasted coffee' on the panel covering the bulb-area of the lights: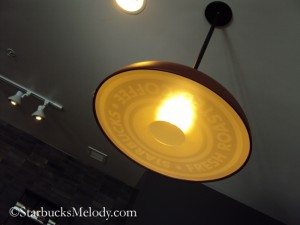 If you want to visit this store, here's the address:
Starbucks store #381
530 Capitol Way South
Olympia, Washington 98501
(360) 753 7771
This store first opened November  25, 1994, and has had the Clover about one year.  The major renovation of this store was completed on November 15, 2010.  All in all, this was a delightful visit!  I actually only stayed long enough to drink a  cup of Honduras from the Clover, and take some photos, but I definitely would recommend this store to others!  Here are just a few more pics:
By the way, I keep saying that I have slow down on the pace of the blog.  The thing of it is, I really do enjoy putting together blog articles such as this one.  However, in the future if the pace of blog articles slows down to a slow drip, I've warned you again. 🙂  But please don't leave, and be sure to tell your friends about the site, and follow the blog by "liking" the blog's Facebook page and/or subscribing to it (widget is in the right column.)
Related posts
Socialize

Subscribe
Join the StarbucksMelody.com mailing list to receive a weekly email with new posts.
Recent Comments