The Shipping Container Starbucks store
Melody, December 19, 2011
26
2 min

read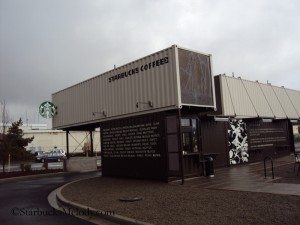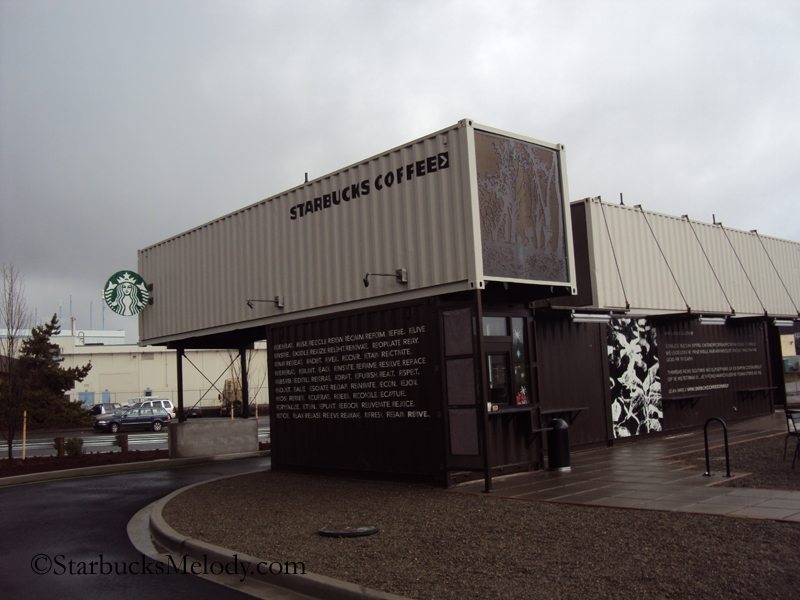 On Tuesday, December 13, 2011, Starbucks opened their first store constructed out of shipping containers.  The store is located in Tukwila, Washington, at 10100 East Marginal Way, 206 – 762 – 3249 (Starbucks store number 15560).  It's actually close to the intersection of Norfolk and East Marginal Way, which is not far from the Museum of Flight and the Boeing Access Road.  This would be a perfect stop for coffee either on your way to or coming from the Museum of Flight.
I had an absolutely fabulous visit to this store today (December 18, 2011).  The register barista (Sara) was full of sunshine and cheer on this gray day.  Sara was effusive about her new store, saying it opened on her birthday, so for her birthday she got a brand new store.  I also met Blake, Dawn and Eric, all who loved their new store.
I learned a number of interesting things about this store while I was there:  the roof of the store is designed with drains to catch rain water, which then is piped to irrigate the plants/vegetation immediately near the store.  Apparently the design of the store includes a concept that as a customer orders at the drive through, a video camera will create a face to face experience so that the customer will actually be able to see inside the store, and see the person taking his or her order.  It's my understanding that this is not yet operational, and is still having all the kinks ironed out.  There is both a walk-up window and a drive through, and a spacious patio near the walk up window.
The drive through menu boards have some digital displays: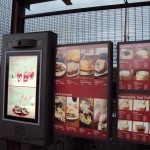 Even the store's logo is made from a piece of shipping container: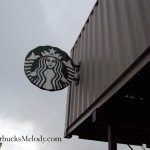 I suspect that real estate is cheaper in this area than in most greater-Seattle areas, so it's a good place to experiment with a novel store design.  Whether we will see more of these stores across the county remains to be seen.  I sort of see this as a limited experiment, a different kind of 'green' and 'repurposed' design.  Or at least that is what my gut tells me.
Hope you enjoy the photos – here are a few more pics:
Related posts