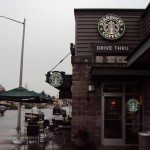 I decided to get out of Seattle for another Starbucks store review.  Almost totally randomly, I picked the Starbucks on Broadway at 37th Street in Everett, Washington (store #8740).  This Starbucks does not have a Clover and does not offer any Reserve coffees.  It has a drive-thru, though I went inside.  It's a normal Starbucks.  I arrived at about 3:00 in the afternoon and ordered a tall Christmas Blend in a for-here cup.  It was hot and fresh and ready to go.  I was a little hungry and almost immediately went back up to the register and ordered some oatmeal too.  The store appeared to be slow inside, though I don't know if it was really being kept busy by the drive thru.  During my visit, most of the time there were three partners working, and sometimes four.
One thing I liked about this store is that although the drive-thru must account for a lot of the business, the partners never neglected the lobby.  While I was there, the lobby got swept, and tables were wiped down, and it was kept shiny and clean.  I stayed about forty minutes, browsing the internet and having coffee and oatmeal.  I didn't tell anyone that I was writing a store review until the very end of my visit, so I am pleased that the good things I saw were not a staged show.  I asked a partner how she would describe her own store and she said, "friendly and efficient".  (By the way, I loved that she was wearing reindeer antlers!).  That about sums it up.  The store IS "friendly and efficient."  Finally it was time for me to go, and Samantha at the register helped me out with some directions to get back on I-5 south.
One funny thing I want to point out about this Starbucks is the restroom.  Most Starbucks have paper towels for customers to dry their hands.  I have seen Dyson hand dryers in a couple of Starbucks, but I thought this was one of the more industrial hand dryers I had ever seen.  I think I've seen this style of hand dryers at rest stops!  And the bathroom was clean, so I have no complaints, I was just surprised by the industrial dryer.
The upshot of the review is, indeed, "friendly and efficient."
(The actual date of the visit was December 11, 2010).
Here is the store address, in case you want to visit:
Starbucks Store #8740
3621 Broadway
Everett, WA98201
(425) 252 4086
As always, I am including a few photos of the store too.  If you like reading store reviews, you can find more by browsing the store reviews category:
Store reviews at StarbucksMelody.com
Related posts