I dropped by the Starbucks on Eighth Avenue (near Bellevue Square) in Bellevue on October 31st, as well as a couple of times in early November.  If want to visit, here is the address:  Starbucks store #303, 10214 NE 8th Avenue, Bellevue, WA, (425) 454 – 0191.
I was struck by how effectively this store uses names on cups.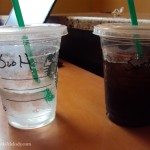 I arrived during this store's morning rush, ordered the Colombia Supremo on the Clover and a cinnamon roll, and took a seat near the bar area.  There is bar-like seating right near the Clover/ espresso bar area, and it allows a full view of most of the store, plus what is happening at the bar.  One thing I noticed was that every single cup in the very long  queue of cups had a name on it.  And I listened.  Names were called out with drinks.  And it looked like a lot of care was being put into it.  I wish I had taken a photo of that line of cups on the 31st.  I noticed that "Shirley" got a cup with a somewhat ornately written name on it.  I assumed she must be a regular, and there had to be a story behind that.  I noticed that even cups of water had names written on them.
As the bar barista handed off drinks, she smiled and managed to make very quick conversation too.  She asked a little girl about her trick or treating plans.
I actually went back to this store on November 10th, because I wanted to see if the store was still using names on cups.  I have to admit, I have seen very few stores ever actually effectively use names on cups.  What I notice is that some stores will use names on cups for a while, and then stop when the store is slow.  It seems to become an off and on habit, and it becomes easy to turn "off."  The other thing I notice that sometimes you'll have the register barista marking a name on a cup, and then the bar barista still calls out, "Tall Vanilla Latte 140 degrees" despite that the name is on the cup.  I think this can make the customer feel like, "What was the point of putting my name on the cup if you weren't going to use it?"
This store looked like they were genuinely working to make a customer connection around the names on the cups – and I saw that both times I visited.  The reality is that a few customers might not like it, and say that they're "Billy Bob," or "Batman,"  but with the millions of customers that cycle through Starbucks, there is no way to create a routine about names on cups that will make 100% of customers happy.  It's not going to happen.  I think most people will like the connection.  Some people would rather be an anonymous number, but they can be the "John Does" on cups.
I was doing some Twitter searches related to names on cups, and came upon this awesome tweet:
The womam working at Stabucks was getting my name and actually asked if it is Cate or Kate. I love you, Starbucks lady. You make an effort.
Customers appreciate the effort to get a name right.  That is such a perfect example of that.
I asked my Twitter followers to weigh in on their thoughts on names on cups.  Here's what I tweeted: I'm writing an article about the customer experience of baristas writing names on Starbucks cups. Weigh in – Like it or not?
Here's what I got:
If you want to see a store that's committed to names on cups, visit this store in Bellevue.  I got a great photo of a customer named Larry picking up his drink!  Larry told me that he loves to drink Eggnog Lattes this time of year.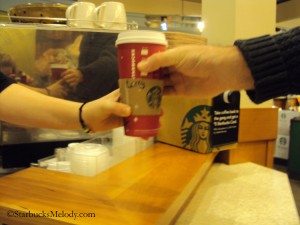 I have to tell you, much later on November 17, 2012, I saw a downtown Seattle Starbucks using names on cups effectively.  I am reminded that the register baristas have to be in sync with the bar baristas and vice versa.  That was also great to see.  I have heard rumors that starting in early 2013, names on cups will become the U.S. and Canada standard.  Please don't take that as written in stone – as I mention, I've only heard that as a rumor.  In the UK, writing names on cups is already the standard as of March this year.  I've heard that other international markets, such as Argentina, have been using names on cups for a while.
So what do you think?  Do you like names on cups?
Related posts