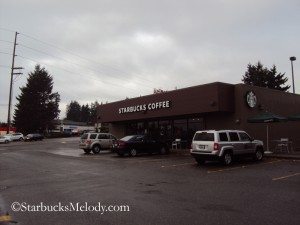 True story: Overheard in a Starbucks today: "Tell Howie he did a good job."  Today (December 11, 2011), I decided to visit the Starbucks located at the intersection of 220th Street and Highway 99 in Edmonds, Washington.  It's the only Clover Starbucks in Snohomish County (as far as I know.)
Unlike most of my store reviews, I'm going to mention the end of the visit first.  I was sitting at my table, and only had a little bit of Christmas Blend left at the bottom of my cup.  Out of the corner of my eye, I noticed a heavy-set man standing near the espresso bar area.  He initially caught my attention because I noticed that he was wearing shorts and sandals, which seemed a little out of place for December anywhere in Washington State.  I noticed that he was making small talk with the store manager, who was at the Mastrena (the store's espresso machine).  He asked her how she liked the big remodel her store just recently had received.  She oohed and aaahed at how beautiful her store looks now.  The pleasantries continued.  And then I heard him say, in a deep booming voice, "Tell HowIE he did a good job."  He clearly likes the store's remodel.  I later learned from the store manager (Thereasa) that he has been a customer on and off for about five years.
Upon hearing that, I thought, 'Well, I'll be sure to mention that in the blog, just in case HowARD sees it.'  Well, okay I know that is not realistic!
That was the ending of this store review.  And now to the beginning:
I arrived a little after 7:00 a.m. at this store, because having been here before, I know it is a busy store.  I wanted to be able to get a few photos without the store being totally full of customers.  I arrived early enough to take the photos I wanted.  There was one wall I wanted to get a photo of, and I waited until a couple of guys with laptops left before I was able to get a good photo of it.  I like this image of the old Starbucks van in front of the Pike Place store: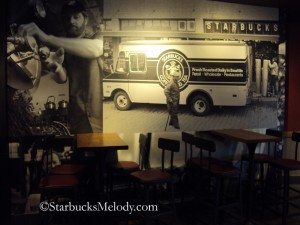 As I recall, the above image was used as a Starbucks card image at one time too.
Before I go any further, I want to mention that this was one of the earlier stores to receive a Clover coffee brewer.  This store got their Clover in August 2008.  Late 2008, I dropped by the store, fascinated that it had a Clover, and took a couple of photos on a very old non-smart phone.  I apologize that the quality of the photos are so poor, but I think it's interesting to at least have a glimpse of what the store looked like prior to the major remodel:
In fact, in terms of the store's history, I think it's interesting to note that this space was originally designed as a 7-11 (so my sources say).  It first opened as a Starbucks on December 2, 2000.  I've been in and out of this store a number of times since it got its Clover in August 2008.  My experiences in this store have always been superb.  I've seen enthusiasm for Clover, and I've had great drinks, and friendly service over the years.  During today's visit, I had an oatmeal and Christmas Blend in a for-here cup.  (The bold brew of the day was Christmas Blend.)  They were both delicious!  I had a nice chat with the store manager during my visit and I learned that she has been a Starbucks store manager for six years!  Congrats on the longevity Thereasa!
In case you want to visit, here's this store's address:
Starbucks – Store #3339
21920 Highway 99 (Aurora Avenue North at 220th)
Edmonds, WA 98206
(425) 775 4286
And last but not least, here's what the store looks like now:  Enjoy the photos!
(If you like reading store reviews, you can browse this blog's "Store Reviews" category and find more articles featuring Starbucks that I've visited and photographed.)
Related posts