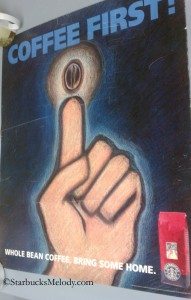 Attached is an image of a poster advertising Starbucks whole bean coffee.  The little bag at the lower right features 'Bella Vista' Starbucks coffee.  The very small print dates the poster to 1997.  It's an interesting image.  Definitely the kind of poster that makes me take a second look and ask, 'What is the story behind this?'  There is a finger pointing at a coffee bean.  And the words atop in bold say, "Coffee First!"  I also think the chalk-art style is intriguing too.
I think the poster is bold and non-traditional for advertising.  It's edgy, and yet makes the statement seemingly that you are always pointing towards coffee – or at least that is one possible interpretation of it.  I don't know what was really the intended message, or if there was a background story, so I am asking all of you, my readers, to weigh in.
I got the poster from a former partner who had been hanging on to a collection of about four or five old Starbucks posters from the mid-to-late 1990s.  I bought the whole lot of them, and this one was the 'surprise' poster thrown in the batch.  (You may see some of the others as future blog articles).  The partner didn't have much to say about it except that he indicated that all of the posters in his collection had been various kinds of  in-store posters and marketing materials.
I know I said no more blog posts until 2012, but I am very curious if anyone knows anything about this poster.
Related posts