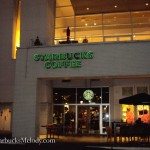 If you are visiting Seattle's University Village shopping center, there are two company-operated Starbucks stores.  One is very large and is well-known.  The other is a tiny little store about two blocks (or less) away near the Crate and Barrel store.  The large Starbucks store tends to get a lot of attention, and is a gorgeous LEED-Certified Clover Starbucks.  My feature article on the larger store is here.
I felt like I should do a little mini review of the tiny store because it is so often barely noticed, living in the shadow of the big University Village store.
The twitter profile for the little University Village is here:
University Village Starbucks store 3394 on twitter.
I dropped into the little University Village store today (January 7, 2012) and saw this nice chalk art, and was inspired to put together this "mini" store review article: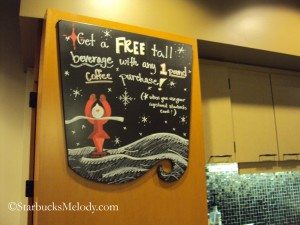 This little store is friendly, though I've noticed that it stays very busy.  Despite that it is a small store, the line can get long.  The address is 2650 – NE 49th Street, Seattle, WA 98105 (206) 522 6410.  I know I should probably not call it the "little" store, it's just that one Starbucks is huge, and the other is tiny.  By the way, I also like the wall of coffee bags in this store.  I noticed that there is a Sun Dried Yirgacheffe coffee bag in the wall design.  Having seen many walls of coffee bags, I haven't seen that bag included in many of these kinds of coffee-bag-wall designs.
So this is my "mini" review.  A few photos, and a mini write up!
Enjoy!  (By the way, if you like reading about store reviews, you find many more articles about Starbucks stores here.  Just click through the pages and enjoy!)
Related posts