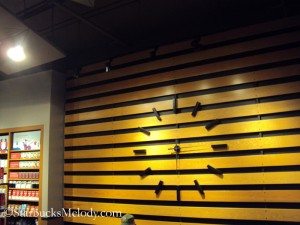 Time for another store review! I decided to stop by the Starbucks on the corner of the 12th Avenue and Columbia, which is located near Seattle University in Seattle.  It added a Clover brewer last year (I think it was in the spring of 2011) and got its major remodel at about the same time as the major remodel.  The store first opened brand new on July 29, 2000.
I really had a great time visiting this store.  I didn't know what to expect when I walked in, but it was a perfect visit.  I walked in and saw the store's new design, and fell in love with the big clock on the wall.  I got some free brewed coffee in my special tumbler, and a slice of the lemon loaf.  I wasn't in the store very long and I heard my name being called.  I recognized the voice immediately:  Tracy.  I've known Tracy, who is this store's ASM, for going on five years.  She is a great partner.  I am not saying that having just met her once, but rather, I have been walking in and out of her stores for years.
When I first met Tracy she was a newer partner at the Pioneer Square Starbucks.  I recall asking the partners there, 'Who coordinates the local art on display?' because I noticed that that store consistently did a great job of finding great local art.  As I recall, I was told, 'Oh Tracy coordinates all that.'  And that is how I met Tracy.  I think that was early 2008, or perhaps 2007.  From the Pioneer Square Starbucks, Tracy transferred to the International District Starbucks as a shift supervisor.  At that store, she continued the tradition of finding local art for the walls.  And now she is an Assistant Store Manager at this 12th and Columbia Starbucks.  She is awesome.  She is always knowledgeable and friendly, and she will be a great store manager some day.  We caught up for a few minutes, and I asked her how she liked this new store.  As it turns out, she says that this store has a surge of customers when school is in session, but when Seattle University is out on break, the store slows down dramatically.  She loves the store, and says the Clover does well.  This Starbucks visit was perfect.  By the way, Tracy is already very aware of the current Starbucks photography policy, so taking the photos for this blog article was not a problem at all.
The large clock on the wall was a design feature primarily considering that students are very often constantly thinking about getting to class.  There is one large community table in a corner adjacent to the Clover area.  I assume that table is a hot commodity for groups of students that meet here to study.
If you want to visit, here is the address:
12th & Columbia Starbucks (Store #3324)
800 – 12th Avenue
Seattle, WA 98122
(206) 329 8028
Enjoy the photos!
Related posts